The Infiorata, or Saluto alla Primavera (Greeting to Spring), is one of the most important feasts
for Noto and its citizens.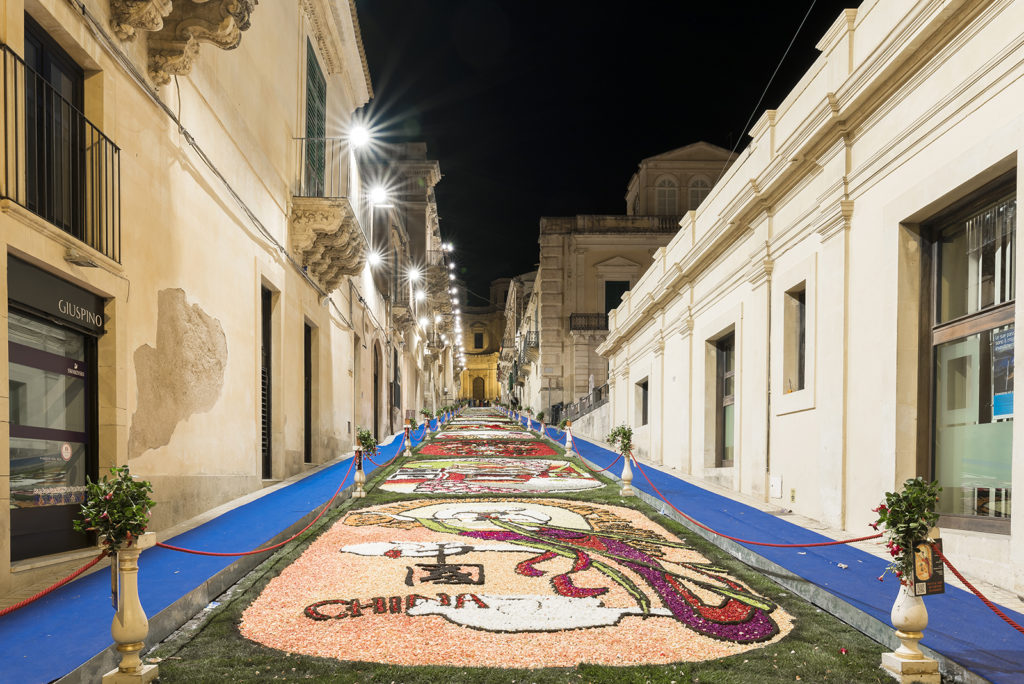 It is a unique opportunity to come together and celebrate. Every year, on the third Sunday of May, since 1979 Via Corrado Nicolaci has been covered in wonderful and colourful pictures of flowers.
On the first Infiorata, the master florists of Genzano, from the province of Rome, were called to Noto to start a long and spectacular tradition, today more alive than ever.
The event is so popular with the public thanks to the many events offered such as exhibitions, rallies and costume parades.
Now let's find out how the feast is organised today. To create the pictures, every year the Municipality of Noto organises a public competition and asks artists to present and develop a chosen theme.
Only the best sketches
are selected.
At this point, having been selected, the experts are asked to complete their paintings when the time is right. 6 metres wide and 4 metres tall, the works cover the whole street, which is 122 metres long.
The end result is a beautiful floral carpet, made of petals from daisies, carnations, gerberas, roses and wildflowers of various sizes and colours.
Though the theme changes year after year, the Infiorata is always opened by the city's coat of arms made by the Istituto d'arte di Noto (Noto Art Institute).