One of the elements that characterises the majestic church of San Francesco d'Assisi all'Immacolata is the dome, crowned by glazed terracotta spheres and divided into eight sections that house large windows.
The dome was left unfinished due to a tragic collapse in 1702 during works to complete it.
In fact, it does not have a segmental dome, i.e. the hemisphere that makes up the dome, or a skylight, the element used to let light into the dome. Another element of great value is the bell tower built in 1852 by Caltagirone architect Salvatore Marino, which stands slenderly next to the dome.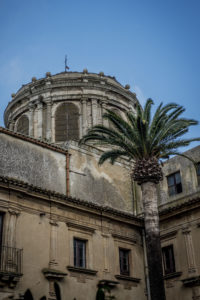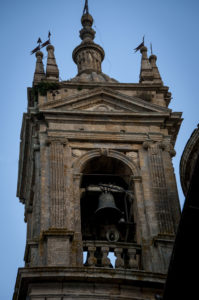 Its shape and finishes were designed to match the ornamental richness of the façade. In addition, a cusp was designed, a pointed ornamental structure in turn surmounted by a tall steeple, an architectural element with an elongated, thin profile that, together with the cusp creates the illusion of the bell tower extending further up to the sky.
The bell tower is so elegant that it inspired the architect Ugo Tarchi who, in 1954, designed the bell tower of the Cathedral of San Giuliano nearby the church of San Francesco D'Assisi.
There are some very valuable objects inside the church. These include numerous paintings by the Vaccaro brothers, a silver-covered wooden statue from 1677 depicting St. Anthony, and a large maiolica panel by Antonio Ragona, depicting the nativity with St. Francis.