A geometric model was envisaged for the reconstruction and reorganisation of the streets of Catania, formed of streets with right angle intersections, extending around Piazza Duomo.
The four main roads (Via Etnea, Via Sangiuliano, Via Vittorio Emanuele and Via Giuseppe Garibaldi) were designed in this sense.
The former Via Uzeda, now Via Etnea, was designed with the idea of straightening the old Via La Luminaria and creating a long straight road starting from Piazza Duomo.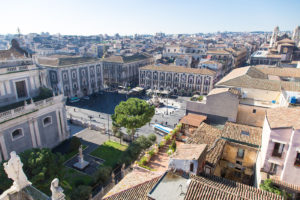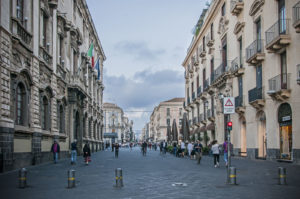 It was designed to intersect with Via Sangiuliano, which still links the Montevergine district to the sea, and with which it forms the Quattro Canti
".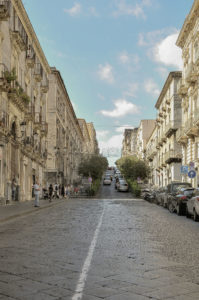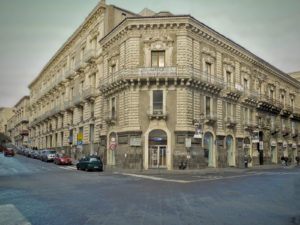 The other two roads that were built are the current Via Vittorio Emanuele and Via Giuseppe Garibaldi, which today link Piazza Duomo with the old city and Piazza Duomo with Porta Garibaldi respectively.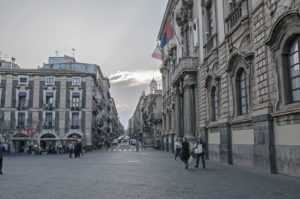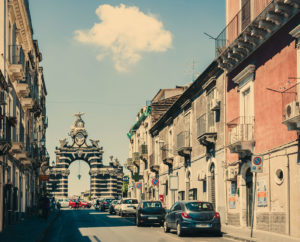 Via Crociferi was added and completed the city's new road network, and is where some of the most beautiful churches in Catania were built. It was in these streets that the writer Giovanni Verga
 set many of his novels. Some examples include Storia di una capinera (Story of a Blackcap), Una Peccatrice (A Sinner) and I Malavoglia (The Reluctance).
The new road layout brought great advantages to the city of Catania; it made it easier to move around and thus made it possible to create vast spaces where citizens could rush to safety in an earthquake. Reconstruction work was started by groups of workers from Calabria and the area around Etna, experts in the removal of lava stone
 blocks.