Located in the historic centre of Catania, the church of San Nicolò l'Arena, the spiritual heart of the monastic complex, appears as a majestic unfinished backdrop within the scenic exedra
of Piazza Dante.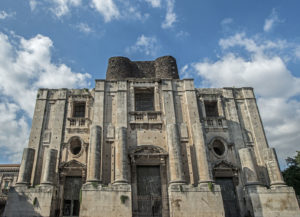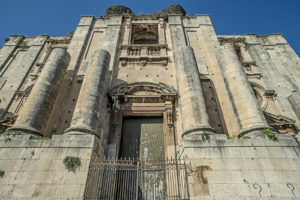 It was built after the eruption of Etna in 1669, replacing an older building from the Renaissance period located further south than the original site. Reconstruction of the new church began in 1687 according to the design of the architect Giovanni Battista Contini
.
After the earthquake of 1693, a little less than a century later, in 1774 the construction of the façade was begun by the architect Carmelo Battaglia Santangelo
, later left unfinished in 1802 by his cousin Antonino Battaglia.
The façade is striking for the giant proportions of the eight columns, which flank the main and side portals. The large rectangular windows and the two oval openings above the portals lighten the heavy mass of the façade. What is most surprising is the strong contrast between the fixed and mighty incompleteness of the exterior and the vibrant spatiality inside the naves which manifests in a truly unique play of perspective and light.
In fact, as you enter the church, one glance is enough to admire the entire immense area, the progression of the arcades and the vaults in line with the main altar. The volumes are enveloped in a diffuse luminosity enhanced by the near absence of sacred furnishings, and inside there are valuable works
the precious organ and the splendid sundial
.
The church is dominated by the majestic dome designed by the architect Stefano Ittar
in 1780, which, with its large windows creates plays of light that reflect between the naves, altar and precious floor of colourful marble.