Located at the top of a majestic staircase along Corso Umberto I, in the historic centre of Modica, the Cathedral of San Pietro seems to welcome the worshippers and invite them, at the same time, to partake in a journey of art and faith.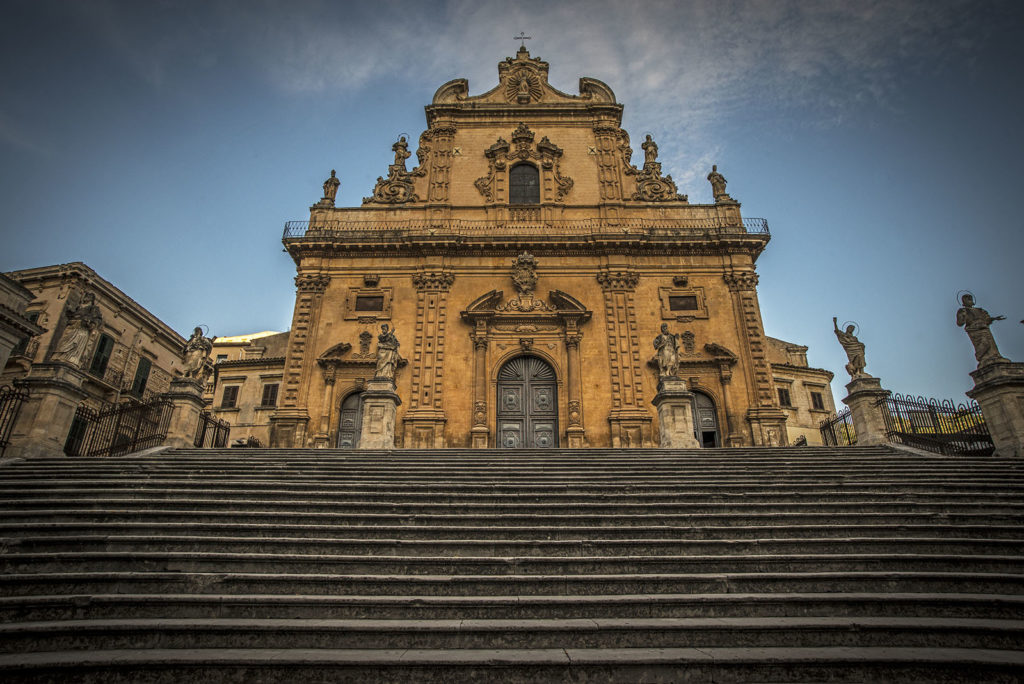 It is considered the city's second out-of-scale work of architecture and comes second to the Cathedral of San Giorgio in terms of importance.
The majestic sacred building was built in 1308, though there are no records of the original structure. After being damaged by the earthquake of 1693, it was rebuilt in 1697 according to a design by Mario Spata and Rosario Boscarino, master builders linked to local artisan tradition.
What drove the immediate reconstruction of the cathedral was the desire to reaffirm that the church of San Pietro was the "Mother Church" of Modica.
The scenographic and severe staircase accompanies the visitor inside the church, who is followed by the gaze of statues of the twelve apostles called "I Santoni". The sculptural decorations rest on pedestals marking the three flights of the staircase which was completed in 1876. The church façade is full and generally sober compared to the exuberant shapes of the cathedral of San Giorgio.
Two overlapping levels, marked by rusticated pilaster strips
made more three-dimensional, stand out on the flat surface of the façade. The first level features three portals surmounted by broken tympanums
, with the central one surmounted by the coat of arms of St. Peter.
The second level, characterised by two small volutes, houses the four statues representing St. Catald, St. Rosalia, St. Peter and the Virgin Mary. The façade ends with a sunburst in which a triumphant Christ is inserted.