The Benedictine monastery of Catania, with its long stratigraphic history, is also known as "the city within the city".
Its large size and the events that have taken place within it over the centuries elevate it to the status of a small city, bordered by large walls, which has always interacted with the surrounding fabric in a relationship of cultural exchange. In the 1970s, it became the seat of the Faculty of Literature, Language and Philosophy of the University of Catania. What does the monastery look like today?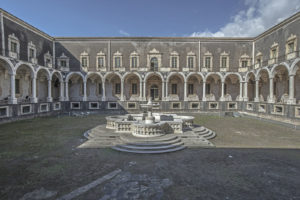 Today it is accessed from the surrounding wall through a majestic portal that leads to the large courtyard surrounding the Abbey, passing the main staircase with its ninety-five steps in Carrara marble.
A remarkable work of architecture, a white scenic staircase punctuated by sinuous balustrades, with the surrounding walls totally frescoed and stuccoed, which, however, maintain an austere aura thanks to the elegant two-toned effect. This neoclassical vestibule
leads to the corridors and the monks' cells. The corridors also lead to the two cloisters.
The first cloister, in the east, is surrounded by a splendid portico
in white Syracuse stone raised on a dark base and embellished in the centre by the Caffeaos
.
The second cloister was rebuilt after the earthquake of 1693, and is characterised by a strong two-tone colour scheme: there are just over 50 white marble columns and arcades located on the lower floor, and large windows decorated with white frames emerge from the dark plaster wall. In the centre, the majestic marble quatrefoil
fountain provides a focal point for the space.