The interior of the church of Santa Chiara (St. Claire) is surprising for the brightness with which it welcomes us.
The delicate colour of the walls, a very light orange, combined with the white capitals
is also found in the corbels
that support the louvre
galleries;
The white sandstone capitals support the wooden structures, which are lacquered with a gentle sky blue colour and embellished with gold-coloured silver leaves. But what is most striking is the splendid maiolica
floor that covers the church.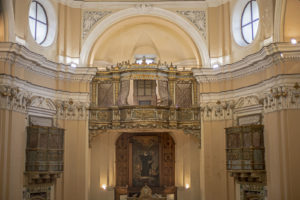 The floor that can be admired today in Caltagirone is not the original one.
The first floor was created in 1749 by the potter Francesco Branciforte from Caltagirone, funded by the Bonanno del Polino family.
The family coat of arms was inserted in the middle of the maiolica tile design.
In 1886, following the Italian Unification, the monastic orders lost their properties.
The church of Santa Chiara (St. Claire) remained open and was maintained thanks to the generosity of Gaetano Bonanno di Polino, then his daughter, the Marquise Bonanno.
In 1942, the family gave the church away. In 1952, the floor was replaced. It was rebuilt using the same technique and copying the old design, in memory of the Bonanno family.
Yellow, green and turquoise stand out from the white background, creating a floral motif on the floor with a two-headed eagle in the middle containing the family crest.