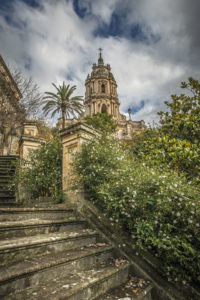 As you ascend the elegant staircase you are surrounded by a hanging garden named the Orto del Piombo (Garden of Lead): a unique setting that welcomes the visitor before coming to the church, similar to the Trinità dei Monti in Rome.
The five Rococo portals suggest the presence of five naves which terminate with three apses
after the transept
.
Characterised by a central tower, the façade is marked by powerful columns that divide it into five bays
, in the first order, where concave and convex forms alternate like stone waves
, which add movement to the massive structure.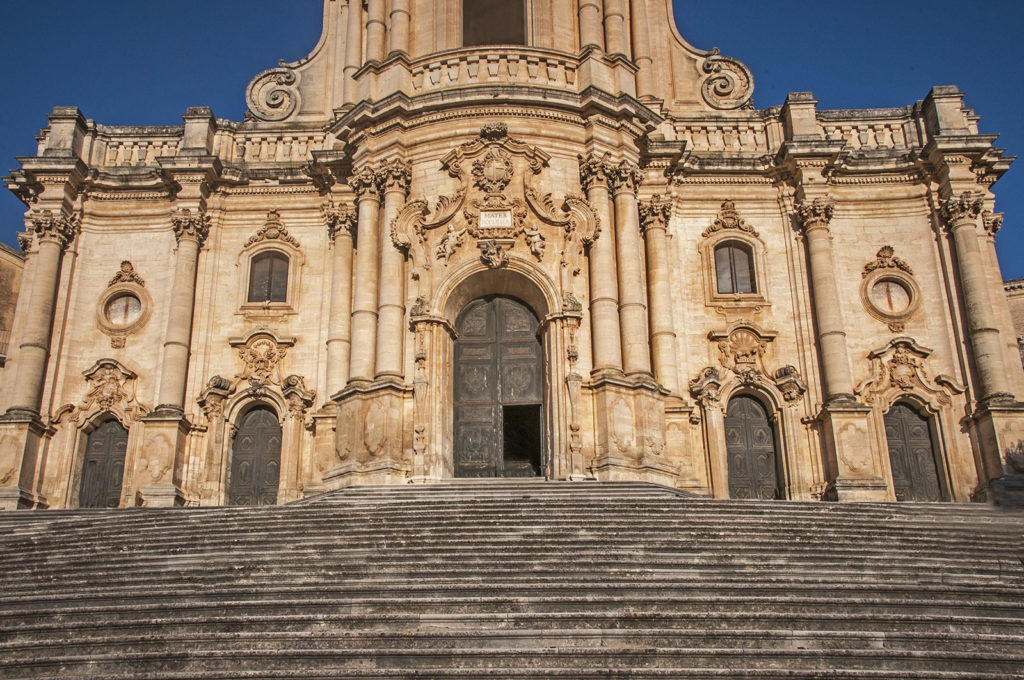 The thrust effect of the second and third levels is enhanced by the concentration of three columns on each side in the central part, the increasingly sober decorations and the openings of the belfries.
interior of the church, dedicated to the martyrs St. George
and Hippolytus, rouses a sense of wonder and grandeur. The five naves that distribute the spaces are delimited by powerful arcades that rest on 22 columns, surmounted by Corinthian capitals
.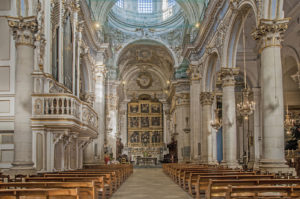 Enriched by gilding on a celestial background, the capitals increase the mystical atmosphere that joins the scenic dramatics of the light that accompanies the gaze to the transept's intersection, where the majestic central dome stands 36 metres tall.
On the floor, opposite the main altar, the passing of time is marked by the discreet presence of an elliptical sundial, which was designed in 1895 by the mathematician Armando Pierini. It marks midday as the ray of light enters the hole of the gnomon
.
A plaque on the far left of the sundial indicates the geographical coordinates of the church.