Via dei Crociferi is a street a little more than one hundred metres long where some of Catania's major Baroque architecture stands in a line.
Among these is the exquisite church of St. Julian, which is part of the architectural complex of the former Benedictine monastery, a prominent figure in the eventful history of this sacred building.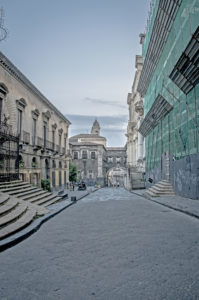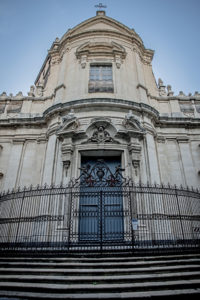 Work on the new church was started by the architect Giuseppe Palazzotto in 1741. Along the road, our gaze cannot avoid dwelling on the street that emphasises the curved shape of the building's façade. The central point of the church is a large octagonal roof, clearly visible along Via dei Crociferi near the façade of the church.
The elegant front of the religious work of architecture, decorated in white marble, is brought to life by two levels of pilasters
and a loggia that hides the large dome behind in an illusory way.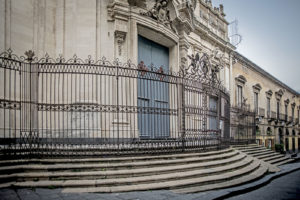 This large octagon, consisting of a compact block of lava stonework, played a prominent role in the panorama of the city before, in contemporary times, new elements were added that now decrease its visibility. There are few sculptural works on the façade, such as the two allegorical female figures above the broken tympanum
of the entrance portal, the only direct entry to the church.
The two smaller doors, placed on the sides, lead to private areas of the church, the crypt
and the cloistered rooms.
The upper part of the façade is animated by triforas
completed by wavy and protruding grilles, from which the nuns would watch the procession of St. Agatha.