The city of Modica, which was the capital of the county of the same name until 1816, is located in the central part of the Hyblaean plateau.


It sits in a natural scenic context
characterised by a particular urban structure due to two deep gorges on which the two sides of the city stand.
Already in the Middle Ages there was strong discontinuity between the central district and the outer parts, which is where the characteristic image of the broken pomegranate, as poetically described by the writer Gesualdo Bufalino
came from.
The inhabited centre is built across two districts, Modica alta (Upper Modica), built in a rocky, hilly area, and Modica bassa (Lower Modica), which is built around the two former streams.
Until the beginning of the 20th century, Modica was crossed by small streams and a series of bridges that connected the various parts of the city. The rivers were buried and the old river became the current Corso Umberto.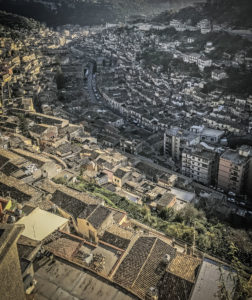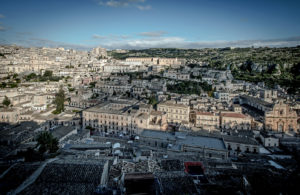 The motif of the staircase, a main architectural feature of the city, is often used to bridge the gap between the different levels. The Cathedral of San Giorgio and that of San Pietro, two important religious buildings that are more majestic than the rest of the city, are both located above the city and are connected to the areas below by a majestic staircase.
Modica is also called the "city of a hundred churches" for the conspicuous presence of sacred buildings erected during the fervent reconstruction following the earthquake of 1693, led by the monastic orders and rich landowners.