Once past the wrought iron gate that delimits the staircase, the façade of the church of San Giorgio manifests its evocative beauty composed of soft lines modelled by concave and convex walls, the triplets of columns that reinforce the central part of the façade, giving it a typical tower-like appearance and, finally, the sinuous connecting volutes between the different levels that gradually narrow towards the top, in an upward movement amplified by the staircase below.
The late Baroque building seems to be accompanied, in its vertical thrust, by the statue of the eponymous saint on horseback, placed on the volute connecting the first and second levels of the façade elevation. The building works lasted more than thirty years and Gagliardi
, oversaw the building at least until 1761.
The first level of the façade was completed by 1760 as shown by the date engraved on the right portal. It is likely that the work continued under the supervision of Vincenzo Sinatra
, who was appointed its legal representative in 1762.
The original design did not undergo drastic variations with other builders including Antonio Mazza and local master builders and sculptors such as the Cultraro family. In 1767 the feast of the patron saint was celebrated in a building whose structure and façade were both nearly complete. The three portals of the church lead into the interior, which did not forgo the traditional three-nave structure.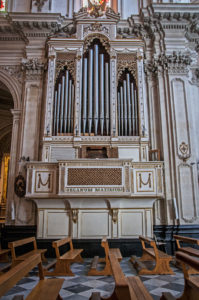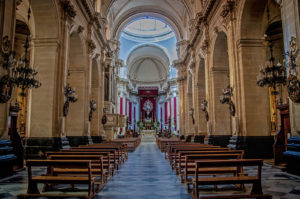 It is divided by large stone pillars, but Gagliardi used the theme of the exedra
to delimit the main spaces and accentuate the sense of the transept's transversal expansion, limited in the central area, due to the system supporting the dome
, built in the 19th century.
Among the slender arcades, interspersed with pilasters
èyou can admire the Organum Maximum, one of the best works of organ art, composed of 3368 pipes and made by the Serassi family of Bergamo.
Finally, the sacristy houses the ancient remains of the original chapel of San Giorgio.