The church houses the original painting of the Burgos Crucifix.
The work is known to date from 1696 thanks to an inscription on the back of the canvas that reveals the year it was painted, but not its author.
There is equally dubious and unclear information about the commission and the dynamics that brought the work to the church of San Giovanni Evangelista (St. John the Evangelist). It was likely a Spanish artist linked to a commissioner
who was also Spanish, or of Spanish origin, and the canvas is presumed to have been either a gift from an aristocratic family, perhaps the Di Stefano family (Giovanna Di Stefano founded the monastery), or the dowry of a young high-ranking nun.
The painting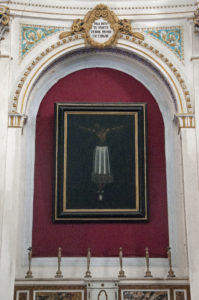 recounts the most tragic moment in Christian history, the Crucifixion.
The dark background of the canvas conveys anxiety and all the tragedy of the event. Christ is shown in the centre of the canvas with a bowed head, long hair, beard and crown of thorns; his body shows clear signs of suffering and he has numerous wounds on his arms and chest. As per tradition, his hands and feet are nailed down.
What is completely unusual is the white robe that Jesus wears; embroidered and ankle-length, it is not often seen in paintings. It stands out from the near-black background, while the cross fades into it. Two silver cups and an ostrich egg are placed beneath the cross. In Christian symbolism, the ostrich egg represents resurrection.
Though Christ's pose is the one we see in most depictions, the same cannot be said for his robe, making the unprecedented representation an important testimony.