During the most recent restoration work, further renovations were carried out on the building, with the creation of a ventilated perimeter cavity to prevent rising dampness from the contact soil, which had massively damaged the floor of the Fountain Room
. Particular attention was paid to the possibility of restoring the flow of water coming out of the fountain. The fountain was originally fed by the aqueduct behind it, flowing from the springs of the Gabriel
.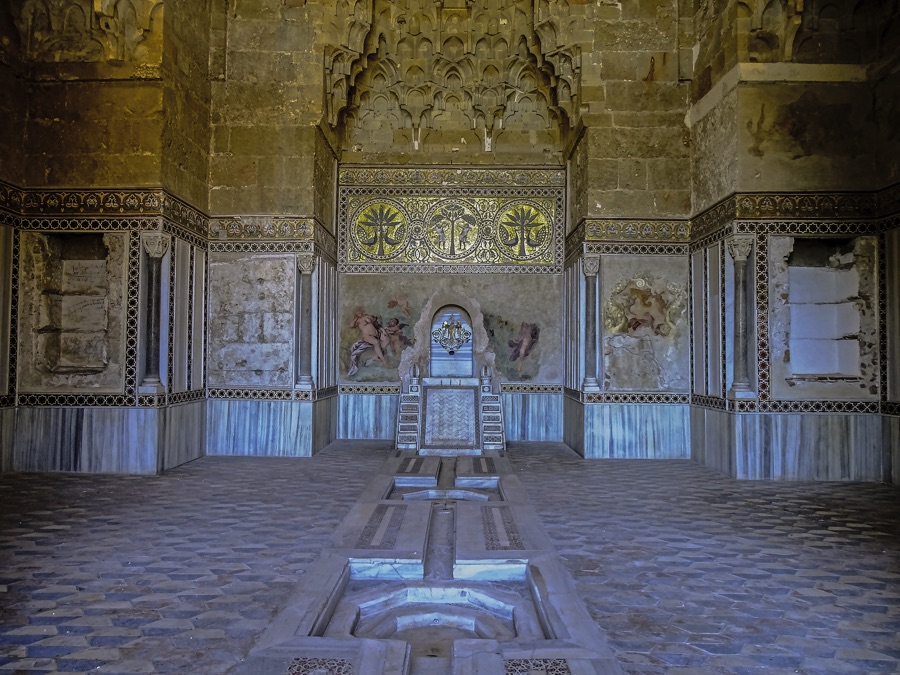 This hydraulic system was disused over time and later abandoned. No trace of it can be found as the area behind it was heavily urbanised and altered. Bringing water back into the Zisa fountain was an important and emblematic step in giving the Zisa its original significance and charm back.
A closed-circuit hydraulic system was thus installed to recycle the water, which escaped from the fountain's tap and flowed into the inclined marble surface, known as the " shādirwān
".
This is a typical element of Islamic and generally oriental fountains. From here, the water could flow through the hall's central channel, where small octagonal basins are inserted, and finally flow outside into the fish pond. In order to make the most of the Fountain room, it was equipped with a lighting system designed to highlight the environment's various plastic or figurative parts with a special effect, obtained on the "shādirwān", where the flowing water could reflect the sparkles in harmony with its sound. A little corner of paradise, a reminder of the ancient splendour of times gone by.