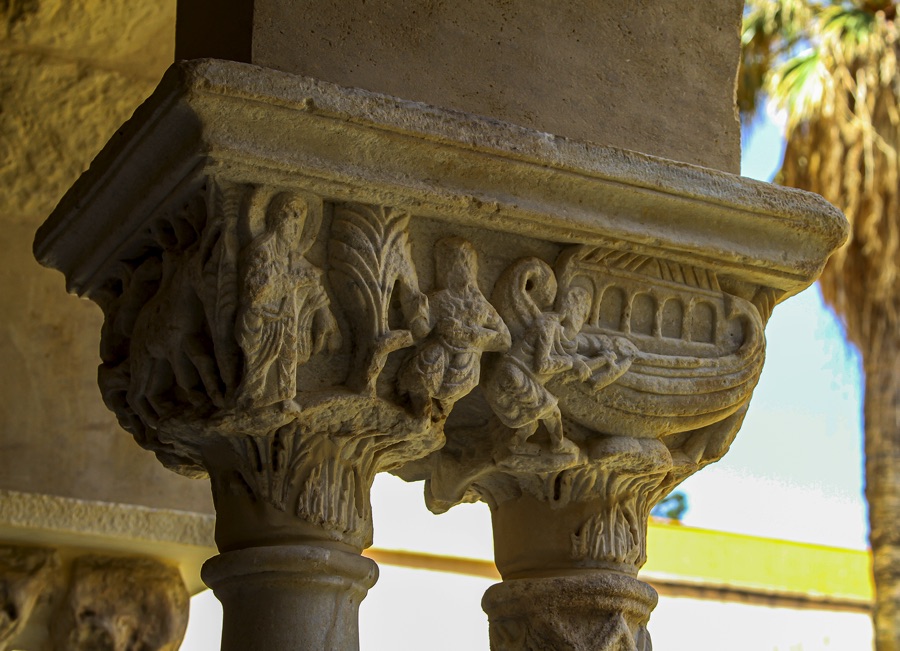 From the beginning,, there must have been a cloistered space connected to the Augustinian convent for the monks, who waited for the construction of the one intended for the canons of the Cathedral.
However, history events postponed its construction for many years. At this point, the real period in which the cloister was constructed remains open for debate.
The cloister was built using poor and shoddy materials in the original masonry structures which still exist today, at least for the southern aisle, which are not similar in consistency and constructional refinement to the stone elements of Roger's building.
Historians and scholars can agree on only one thing: the dating of the precious capitals
.
They were certainly made by medieval craftsmen, but it is indisputable that the capitals were made by master stonemasons at the same time as the master bricklayers were constructing the building, according to medieval tradition, to be used when placed on site.
The capitals, still visible today along the aisles of the cloister, were relocated by those who built the current cloister. However, they placed them in non-canonical positions with respect to what must have been their original position, which followed the circular path of the aisles in an anti-clockwise direction. It started from the transept door and returned to it in processional form, telling the monks, in their allegorical narrations, the Story of Salvation.