In this context, the central chapel
in the Cefalù Cathedral has a unique elongated shape which enhances its elevated volume, enclosed by two ribbed cross vaults
, which virtually delimit the space of Bema
.
At the front of the building, there are two symmetrically placed compartments in the side walls to connect the Prothesis
and the Diaconicon
, dedicated to liturgical services.
The interior decoration is conspicuously divided, at the two cross vaults, with mosaics covering the entire eastern part, including the basin and the apsidal dome
. The western area, extending up to the elevation of the arch facing the transept
is adorned with stuccoes and statues, commissioned by Marco Antonio Gussio
in the mid-17th century.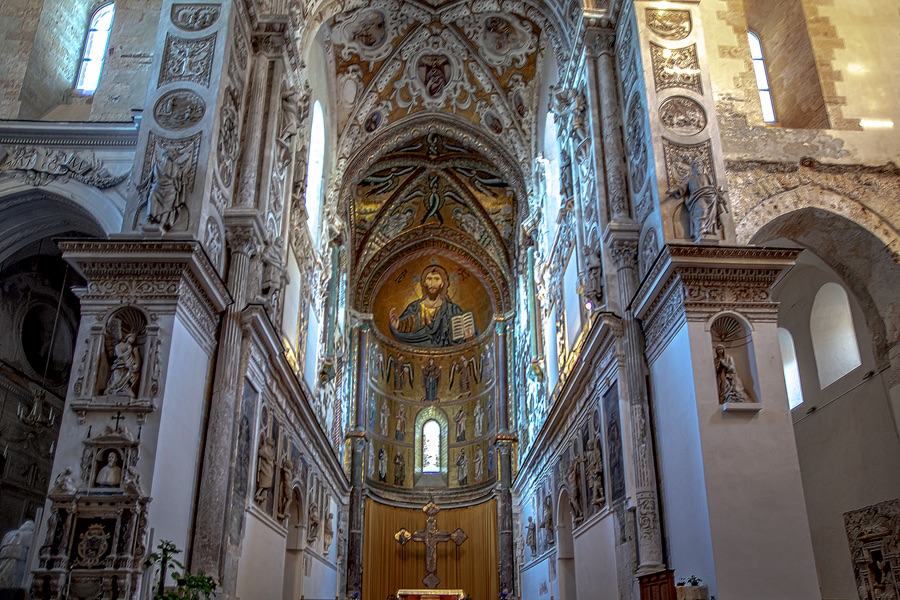 The Baroque style
was creatively used on this occasion to embellish this remaining part of the Bema, which was originally intended to house the medieval mosaics that completed the original iconographic programme.
Inside the Sanctuary, according to the Canonical Rite, the royal seat and the bishop's chair were placed against each other on the walls, while in the centre, under the second cross of the Bema, decorated with mosaic images of Seraphim and Cherubim
was the ancient altar
, embellished with a gold altarpiece and surmounted by a precious ciborium
.
Today, the Cathedral houses a new altar
, made of bronze, cast in wax and finished in pure gold.