Amidst a mixture of different classical, Byzantine and Arab artistic influences, the temple's magnificence religiously evokes the sumptuousness of a domus aurea with its one hundred and thirty paintings with a gold background, which are spread throughout the rooms of the Cathedral. In the splendour of this temple, charm and beauty are also found in the mosaic floor.
Unfortunately, few examples of its original layout have survived, as it was subject to renovations, first during the 16th century, and then following the fire of 1811. This can be understood from the words of Abbot Domenico Benedetto Gravina, in his essay on the Monreale Cathedral, dating back to the second half of the 19th century: "However, it should be noted that most of those that exist today were made after the fire of 1811.
There are very few examples from earlier times, and perhaps none from the Norman period.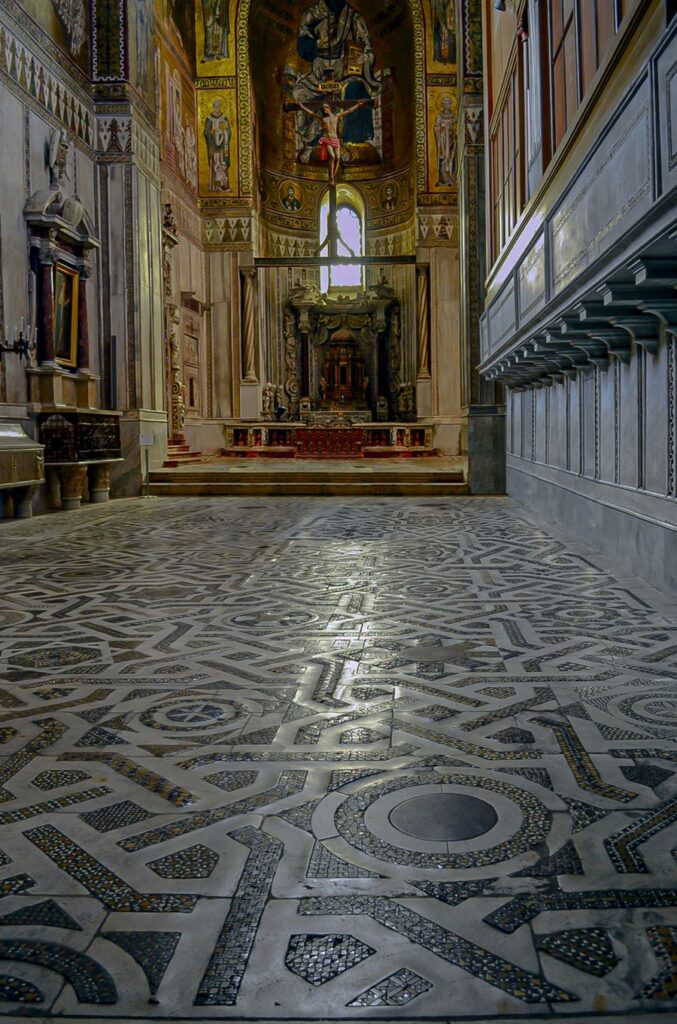 A detailed testimony dating back to the 1540s reported by friar Leandro Alberti recalls the previous presence of anthropomorphic and phyto zoomorphic themes
populating the floorboards of the Basilica. The latter are no longer visible, except in the motif featuring four hares, inscribed in a circle in front of the prostheses
and in some parts of the stone facing that occupies the Campata di San Luigi, or the St. Louis bay, on the left side of the presbytery, up to the entrance of the magnificent Chapel of the Crucifix.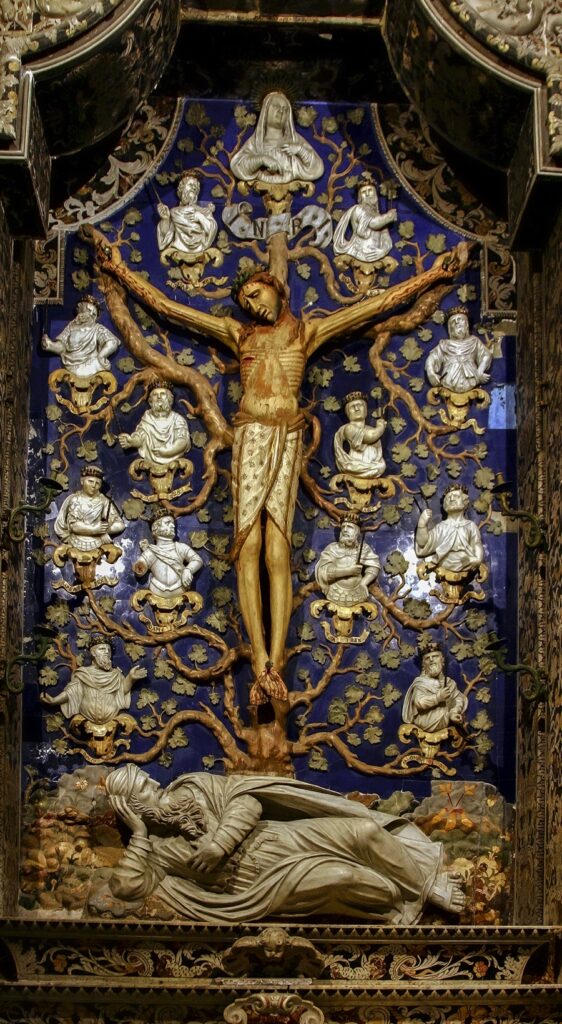 This area of the cathedral contains most of the ancient stone material, including figured stone, which can probably be traced back to the work of masters who worked during William II
's time.
The dominant style is Byzantine-Cassinese
, unlike the Islamic
, which is the undisputed protagonist of the mosaic carpet in the other rooms of the religious building, alternating with the Roman-Cosmatesque components
present in the bands and backgrounds.
In the great presbytery
  and the post presbytery
, the floor decoration is almost entirely composed of Islamic motifs, skilfully combined with the Cosmatesque style impressed in the geometric decoration of the remaining areas.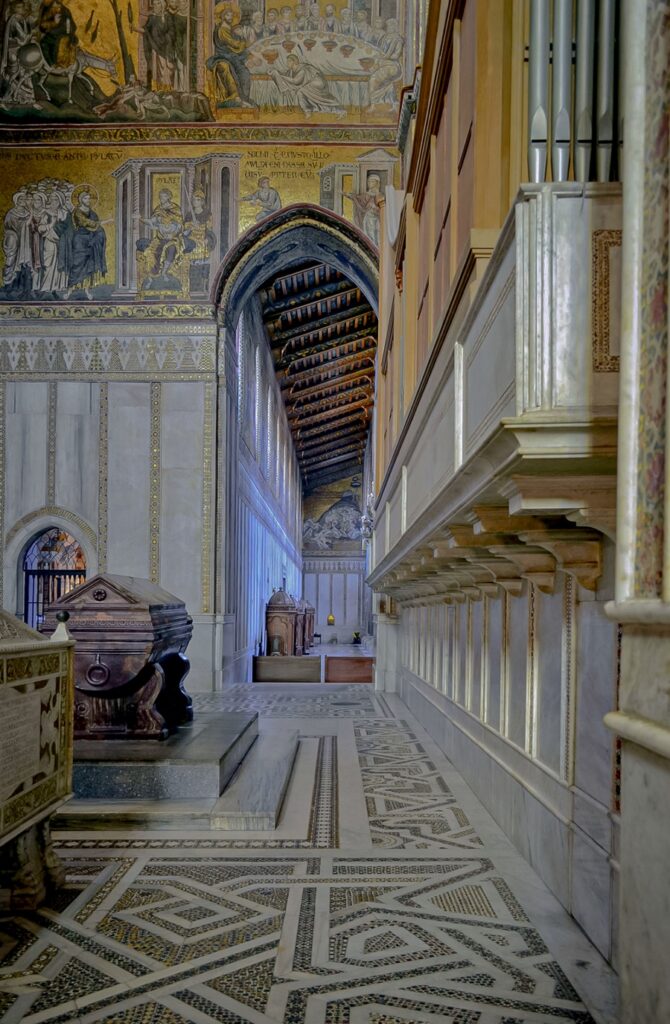 The right wing of the presbytery, where the Campata dei Gugliemi, or the Williams' bay, is located, echoes the floor panels of the Palatine Chapel
.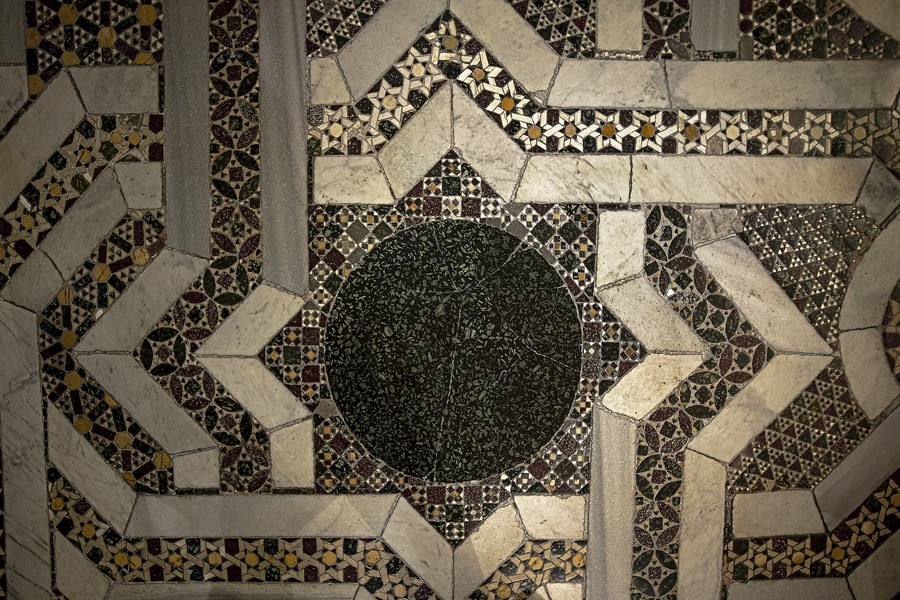 This space, affected by restorations carried out between the 15th and 16th centuries, probably contains reused elements of the original floor.
In the floor strip in front of the presbytery
, there is once again a mixture of Islamic designs and Cosmatesque geometry.