The Chapel of the Royal Tombs, inside the Palermo Cathedral, houses the tombs of the Norman first king of Sicily, Roger II
, Constance of Hauteville
and Henry VI of Swabia
and their son Frederick II
, together with his first wife Constance of Aragon
.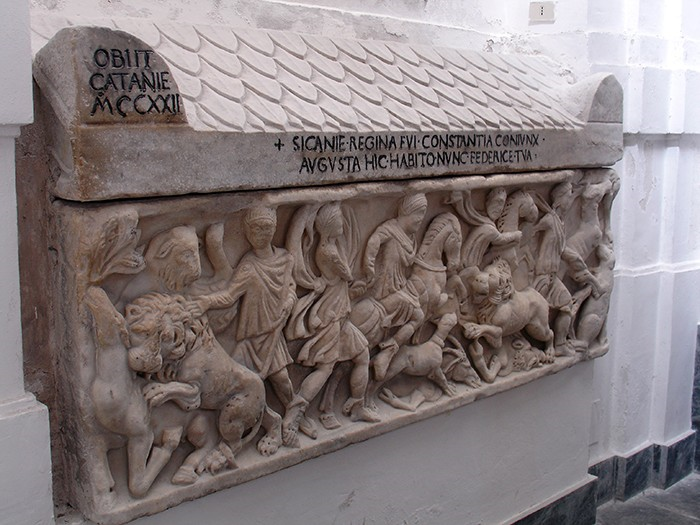 The sarcophagi, used as burial places by Henry VI and Frederick II
, were carved reusing elements of red porphyry
, a symbol of royalty, copied from ancient specimens and coming from Rome, where Islamic craftsmen, originally from Egypt and Constantinople, specialised in working the particular material. The two sarcophagi, intended to be placed in Cefalù Cathedral
, were commissioned by Roger II
, before 1145: one to hold his mortal remains and the other, to be left empty, "for the greater glory of God".
After the King's death in 1154, his wishes were not respected as Frederick II had them transferred to the Palermo Cathedral, allocating one for himself and the other for his father, Henry VI. The location of the group of tombs was originally in the area known as the "Cemetery of Kings", on the right-hand side of the Cathedral Presbytery, opposite the "Cemetery of Bishops". Its current location is the result of a number of transformations which begun in the last decades of the 18th century. They were designed by Ferdinando Fuga
and then completed in a more incisive way by the architect Venanzio Marvuglia
. The changes mainly affected the side chapels and the Sanctuary where the Titulo
and Antititulo
were dismantled. If the latter was the transversal space, the Titulo, on the other hand, included the choir, the space dedicated to the tombs of kings and bishops. The restorations that erased these two areas led to the creation of a transept with a dome in the centre and an extension of the choir to the main apse, where a large central chapel was created. The sarcophagi were then moved to the present-day Chapel of the Royal Tombs.