Entering the sacred building from the main west-facing portal, which William II of Hauteville
dedicated to the Nativity of the Blessed Virgin Mary, is an invitation to participate in the most impenetrable expression of the infinite, through a pathway steeped in art that calls at the same time for profound veneration. The rooms that rest on a Latin cross plan
seem to overlap, with a dynamic progression of forms and colours, in a continuous crescendo.
The basilica develops in a longitudinal direction, starting from the three naves
which divide the central body with nine rows of columns, rhythmically arranged on each side of the main nave.
From this, it is possible to distinguish the eastern part of the church, which is a separate unit and functional to the neighbouring buildings, the monastery
, the Abbot's Tower
to the south and the Royal Palace
to the north.
The need for a connection between the various architectural elements is already evident in the layout of the cathedral, which from the beginning had the archiepiscopal throne
and the royal throne
leaning against the two large eastern pillars of the transept
, facing each other, which can be traced back to the adjacent reference architecture.
The final part of the nave, just before passing through the triumphal arch
, is already within the space occupied by the presbytery
. The extension of the area of the naves is immediately apparent in the balance that linked decoration and architecture from the beginning, creating an indistinct sense of wonder for those who enter, unlike the Palatine Chapel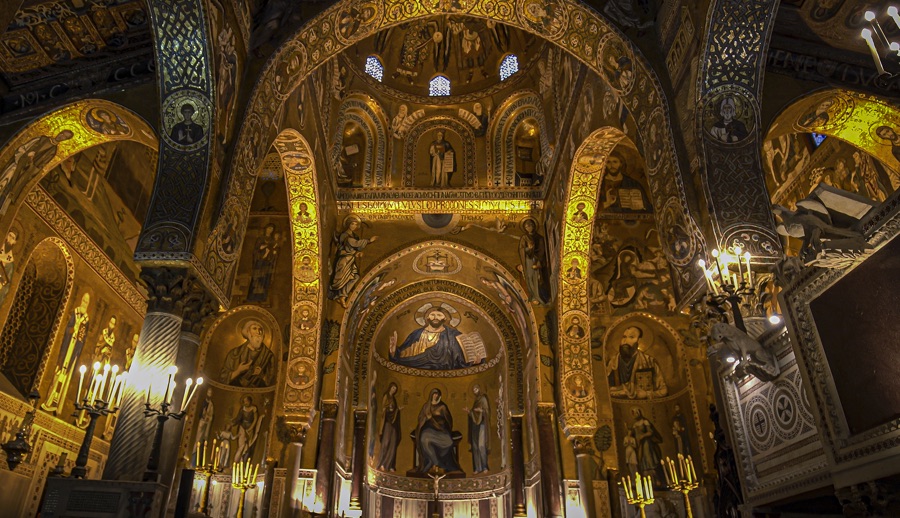 and the Cefalù Cathedral
,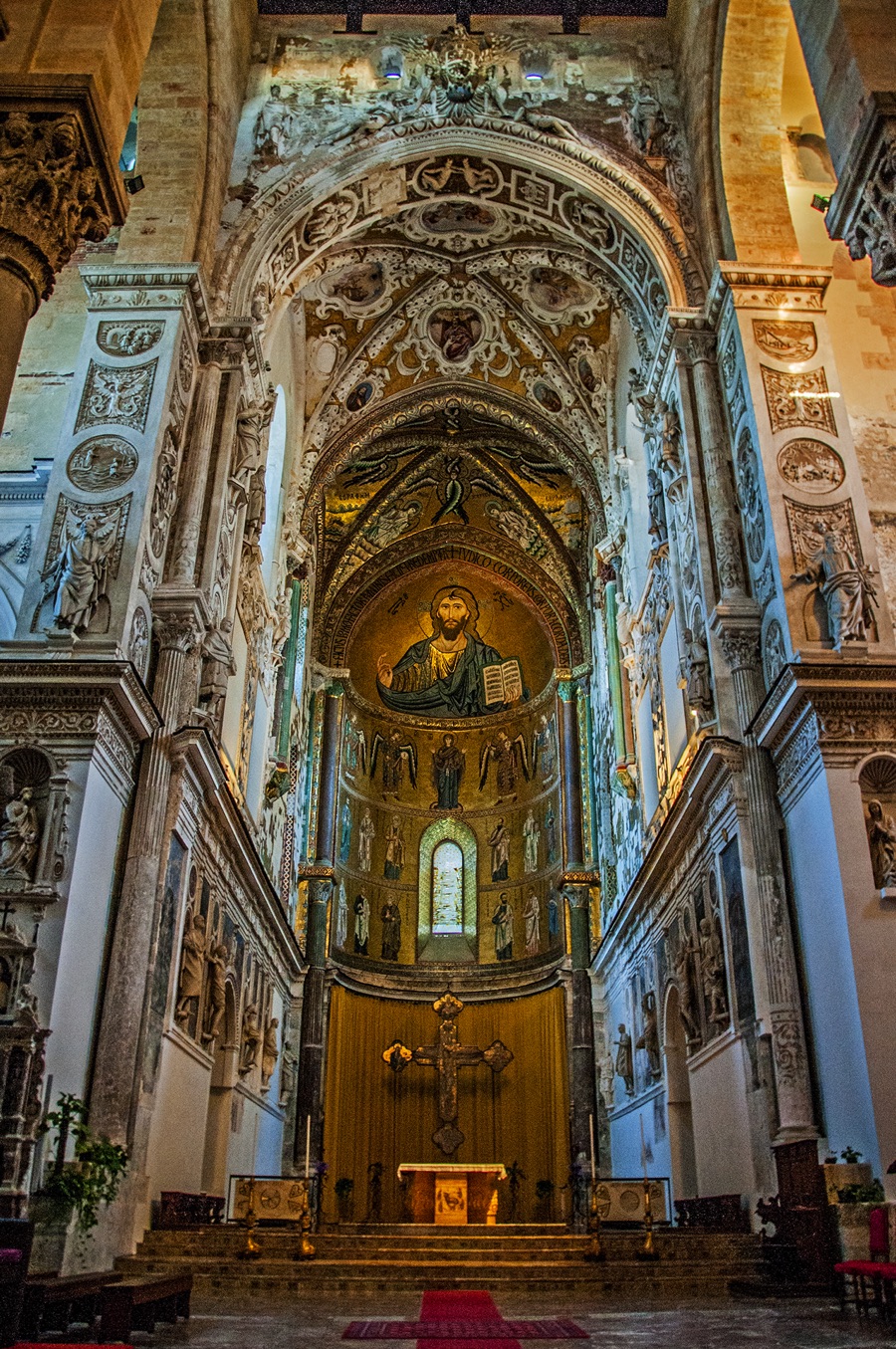 Norman constructions in which the extraordinary sparkle of the decorated walls prevails for one, and the building's imposing structure prevails for the other.
The orderly sequence of the nave's previously more homogenous eighteen columns
, featuring capitals
irregularly distributed according to the dimensions of the shaft, delimits the dimensions of the lower area of the side walls, devoid of images but not of decorations.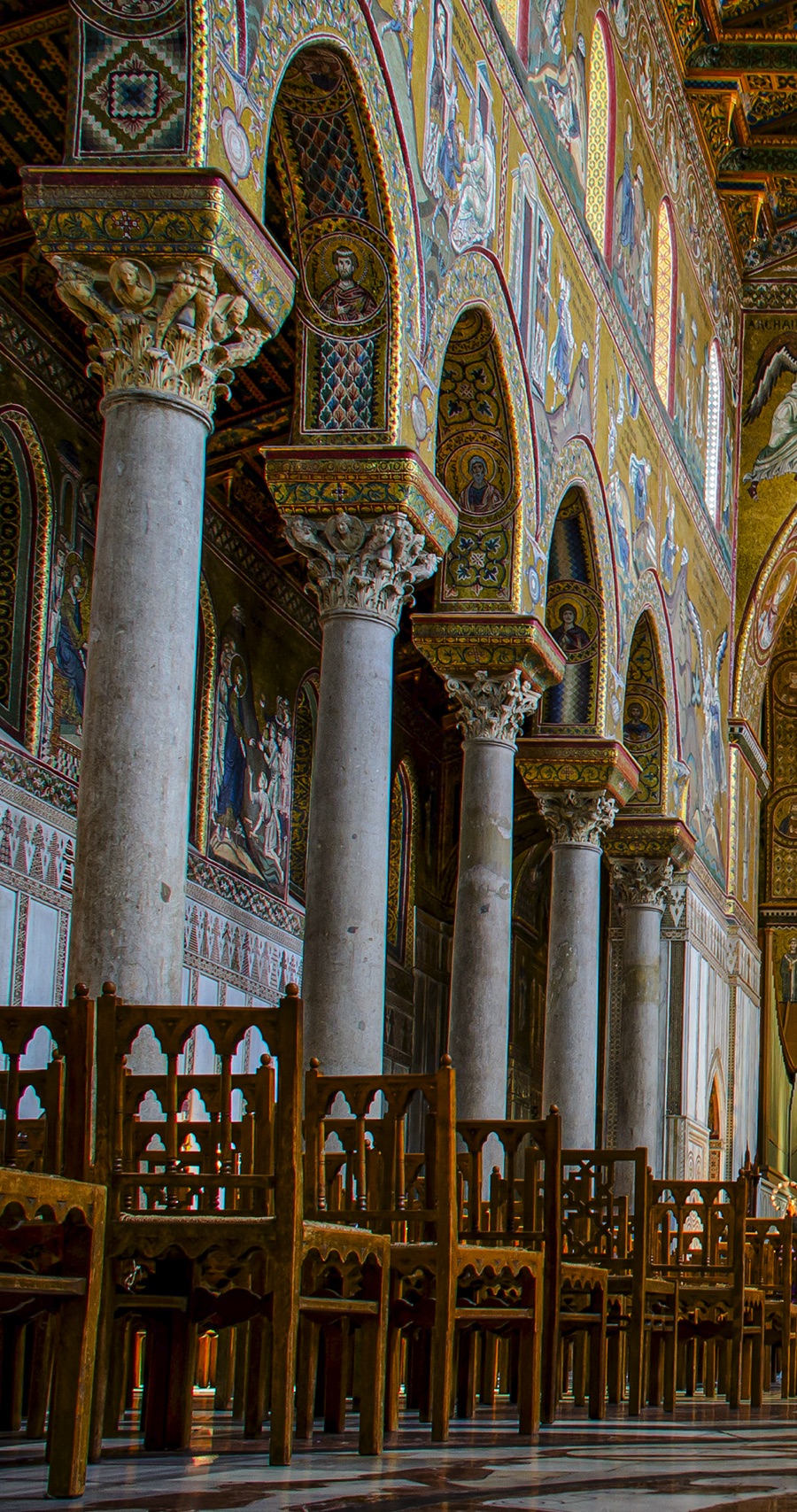 The absence of any form of mosaic narration was intended to keep the attention of the faithful on the sacred liturgical representation. In this area, the pulvinos
above the capitals mark the beginning of the mosaic ornamentation, following a design that the architect had otherwise studied using profiles and mouldings, even for the other rooms in the Cathedral.
The entire interior mosaic mantle, created by Byzantine craftsmen and local artists over a rather long period of time, between 1177 and 1183, develops according to a precise theological-dogmatic logic. It starts with the mosaics of the main nave, depicting scenes from the Creation to the Jacob cycle
, from the Old Testament, to the episodes from the Life of Christ
, visible in the aisles and described in the New Testament. In this initial path, in which visitors are filled with an arcane and inexpressible feeling, one's attention naturally focuses on the grandiose image of Christ Pantocrator in the apse, in eloquent harmony with the architecture as a whole.