The mosaics of Santa Maria dell'Ammiraglio, attributable to Byzantine masters, cover most of the walls and vaults. Despite the fact that the original layout was affected by the alterations carried out between 1500 and 1700, the mosaic cycle of the Martorana is certainly one of the best preserved of the period. To welcome the faithful, there are two mosaics, with the scenes that represent the admiral Giorgio D'Antiochia, kneeling in front of the Madonna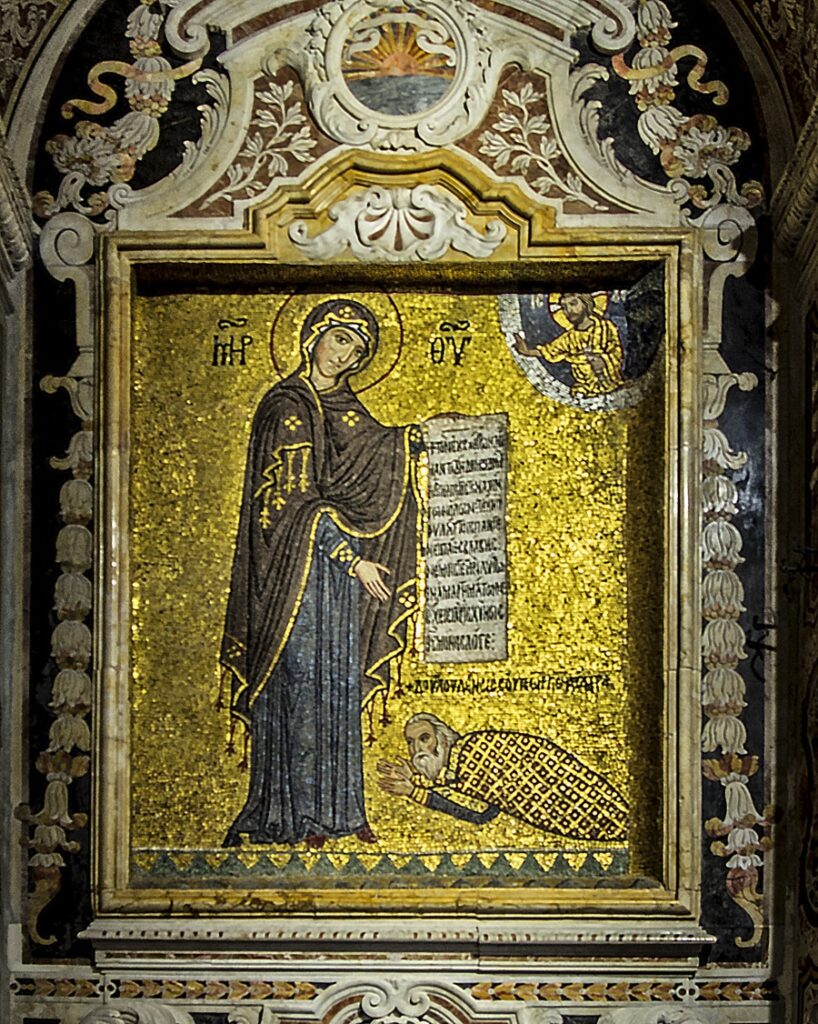 and Roger II being crowned directly from the hands of Christ
.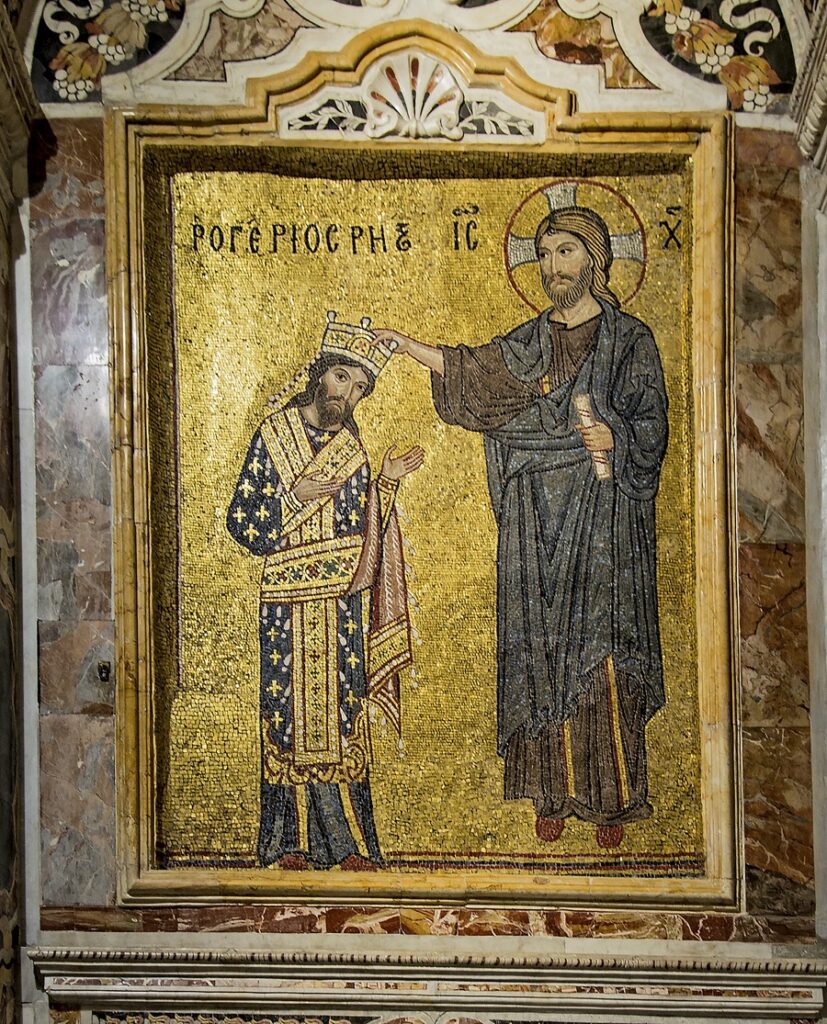 These panels were located in the ancient narthex
, before the narthex and the porticoed courtyard were demolished at the end of the 16th century, to give the building a basilica-like plan, typical of the Latin rite. Adjacent to the mosaic, with the dedication to the Virgin, is the Chapel of the Rosary,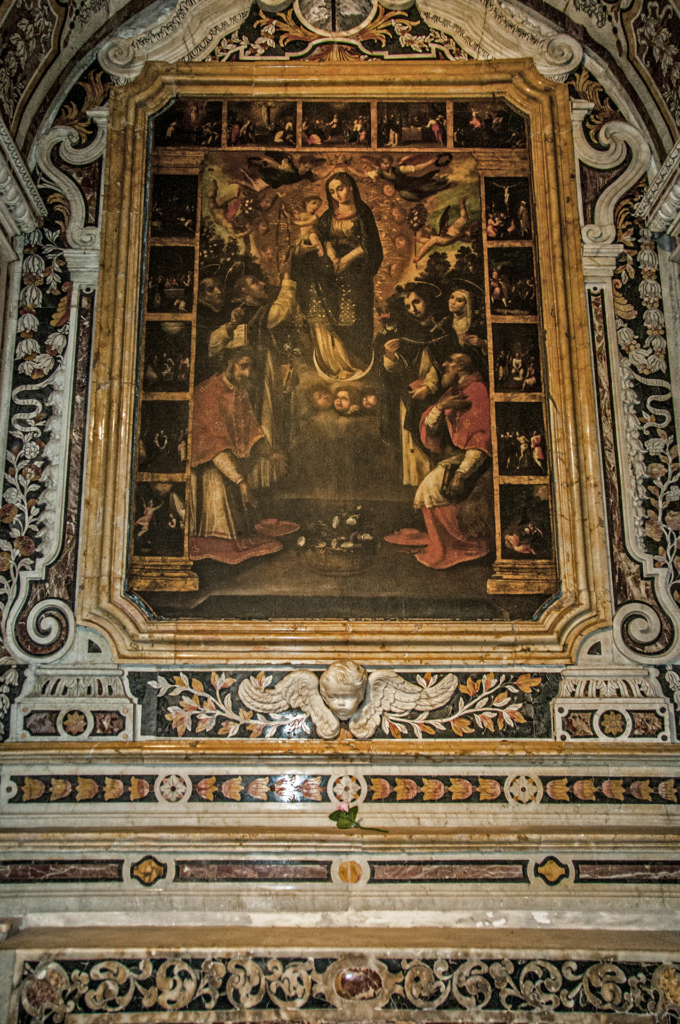 while the Chapel of Saints Simon and Judas is symmetrical.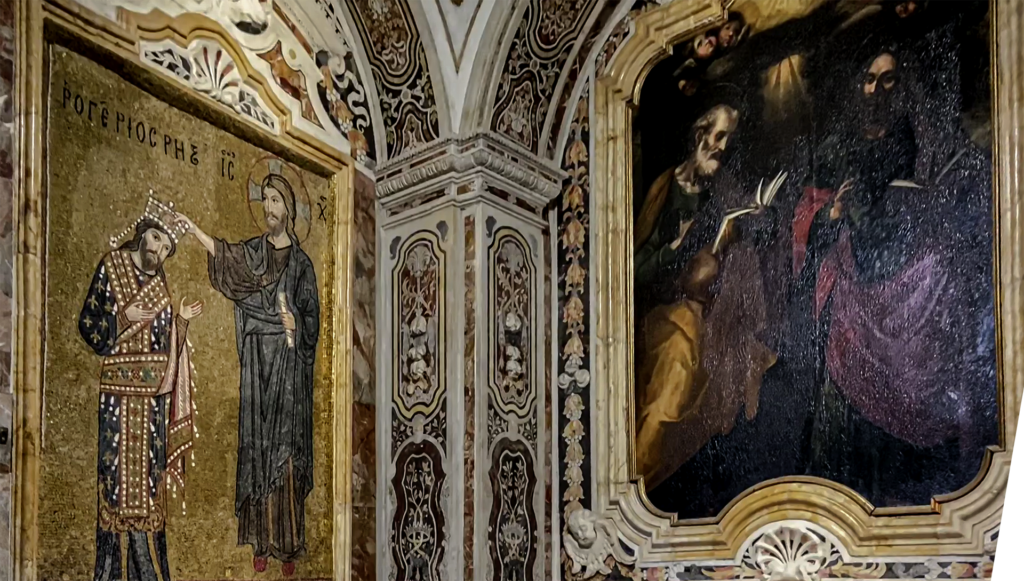 The focal point of the entire mosaic cycle is the vault of the dome with the Christ Pantocrator
, represented seated on a throne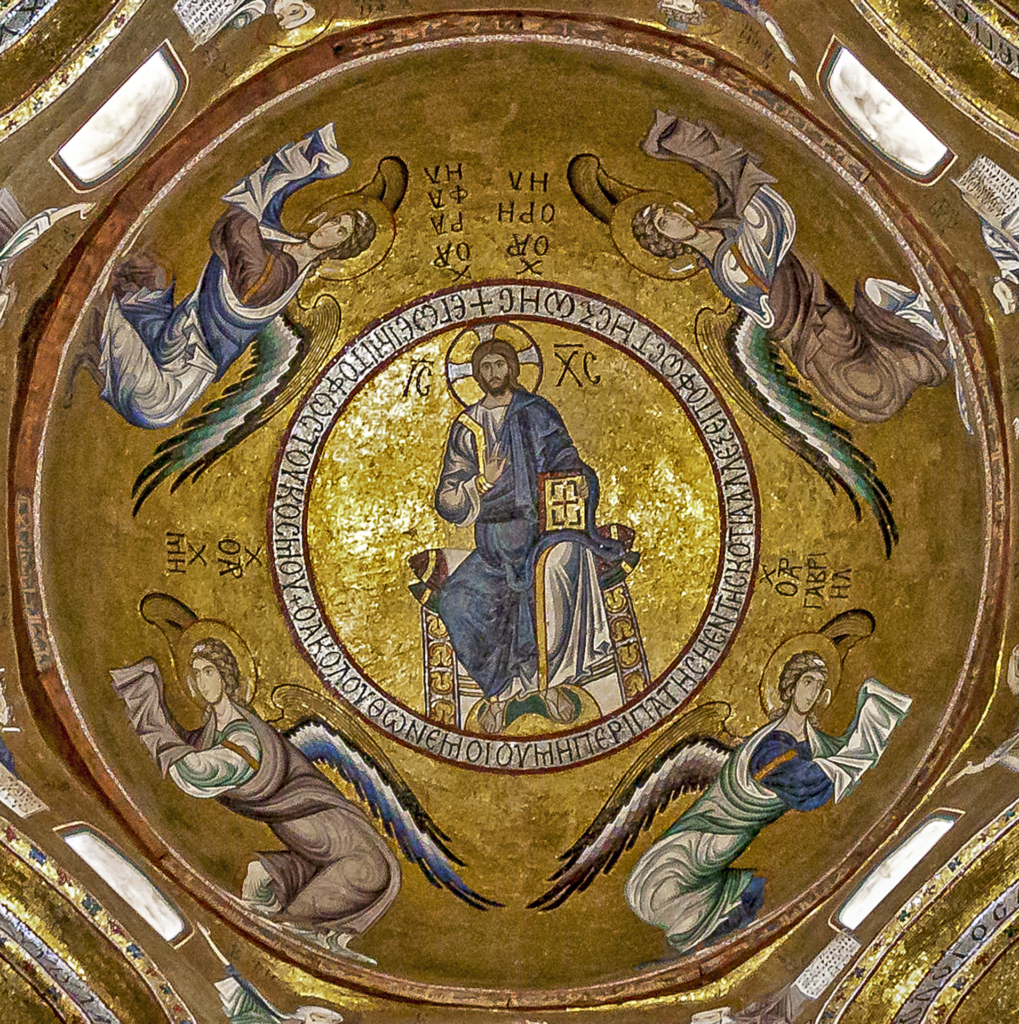 In the dome four archangels
, Michael, Gabriel, Raphael and Uriel
, dressed in rich robes, bow down to him in the act of adoration, while in the octagonal drum of the dome, there are eight prophets
, David, Isaiah, Zechariah, Moses, Elijah, Jeremiah, Daniel and Elisha, depicted with their right hands in an act of adoration and with their left hands clutching the scroll of prophecies. In the corner niches, intent on writing, the four evangelists
  Matthew, Mark, Luke and John are present. The cycle continues in the transept
, on the barrel vaults of the two arms, where eight apostles
are depicted standing in pairs: Peter and Andrew, James and Paul, Thomas and Philip, Simon and Bartholomew.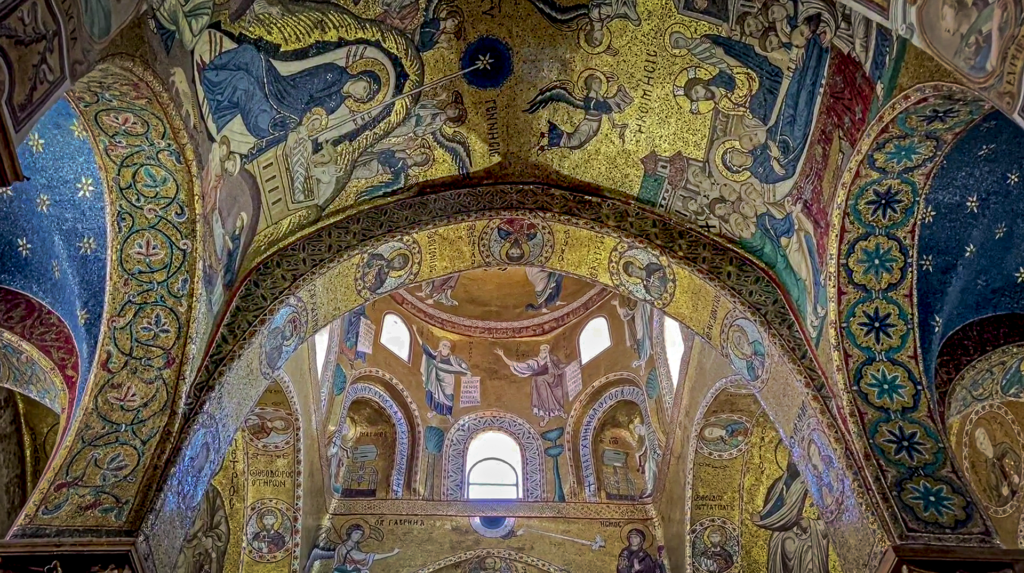 There are four main scenes, which symbolise the cycle of the Byzantine feasts since they narrate the most representative and important events in the life of Christ: the Nativity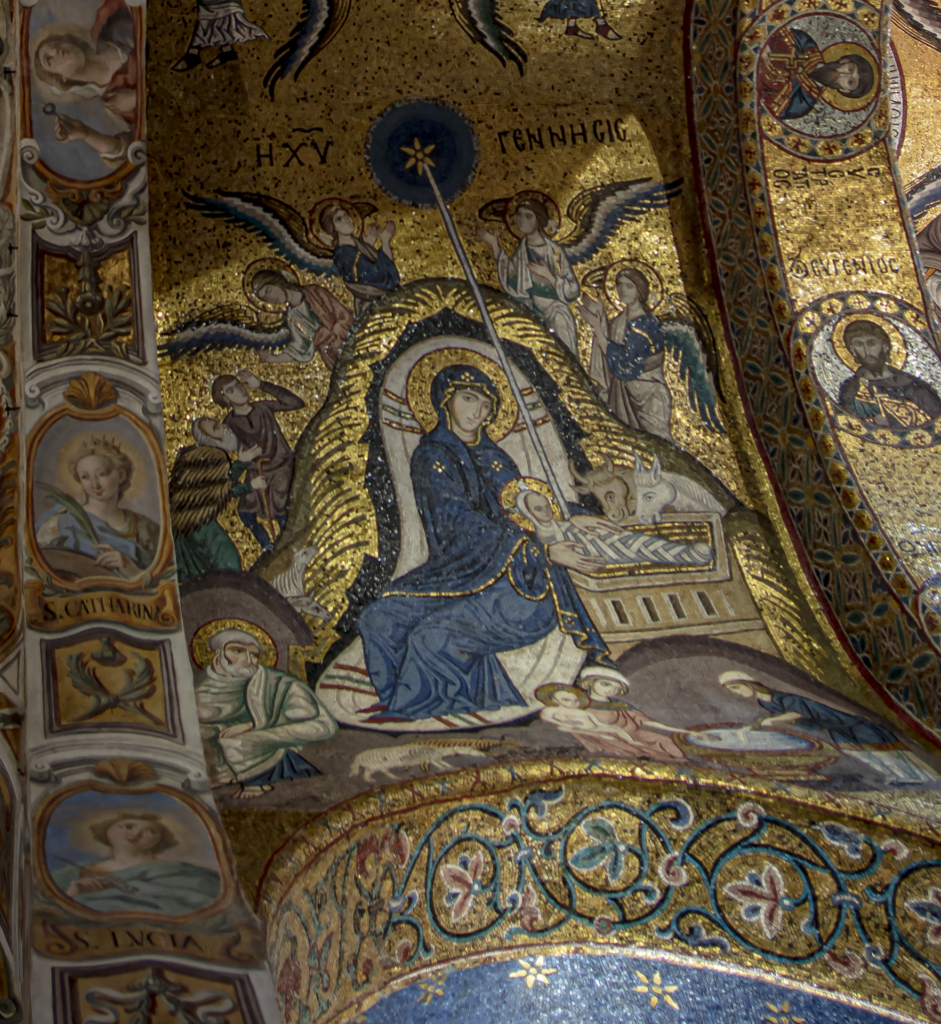 and the Dormitio Verginis
  (Dormition of the Mother of God), placed in the western vault of the central space; the Presentation of Jesus at Temple
, in the transversal arch and The Annunciation
, in the triumphal arch which divides the space of the Bema
.
In the inner sides of the arches, there are medallions
with busts of martyred and military saints; the bishops are placed in the triumphal arch. In the band of the Bema, in the two side apses, there are depictions of St. Joachim
and St. Anne
, as a tribute to Mary's parents, while the creation of the square chapel in the place of the original apse meant that all the mosaic decoration was lost.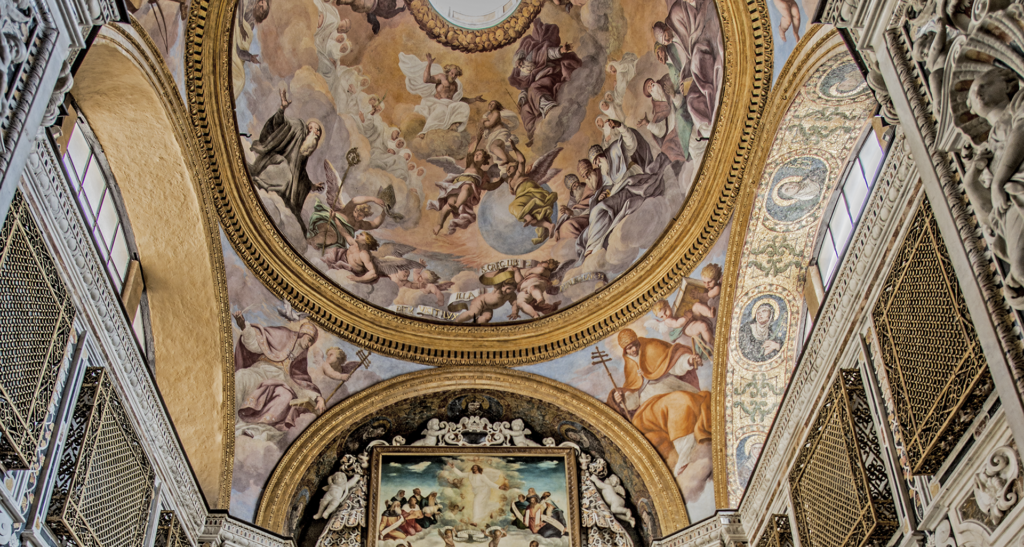 The entire mosaic cycle has many different decorations: plant themes such as trees
 in the drum of the dome and in the bays; psalm passages on the arches that frame the two side apses and a precious starry sky
with six-pointed stars on a dark blue background in the vault of the four corner bays.