A symbol of the splendour of Baroque art, St. Benedict
's  Chapel is located between the right arm of the transept
and the nave
, adjacent to the northern wing of the Benedictine
cloister
. Originally dedicated to San Cataldo, in 1569 Cardinal Alessandro Farnese
had the altar of the founder of the Benedictine Order, after whom the chapel was named, placed in the chapel during the restoration and reconstruction of the large nave and the flooring
.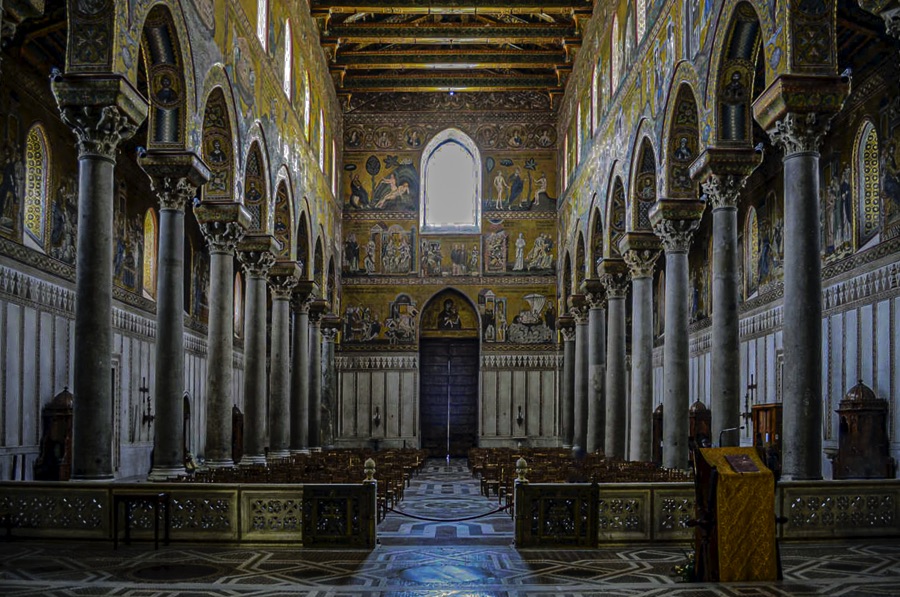 In the following centuries, the chapel was richly decorated according to current styles. In 1607 Antonio Novelli
, father of the more famous Pietro Novelli
, painted an altarpiece and frescoed the entire room. It was not until the following century, in 1728, that the frescoes were replaced with ten marble reliefs, by the artist Giovanni Marino, narrating the life of St Benedict.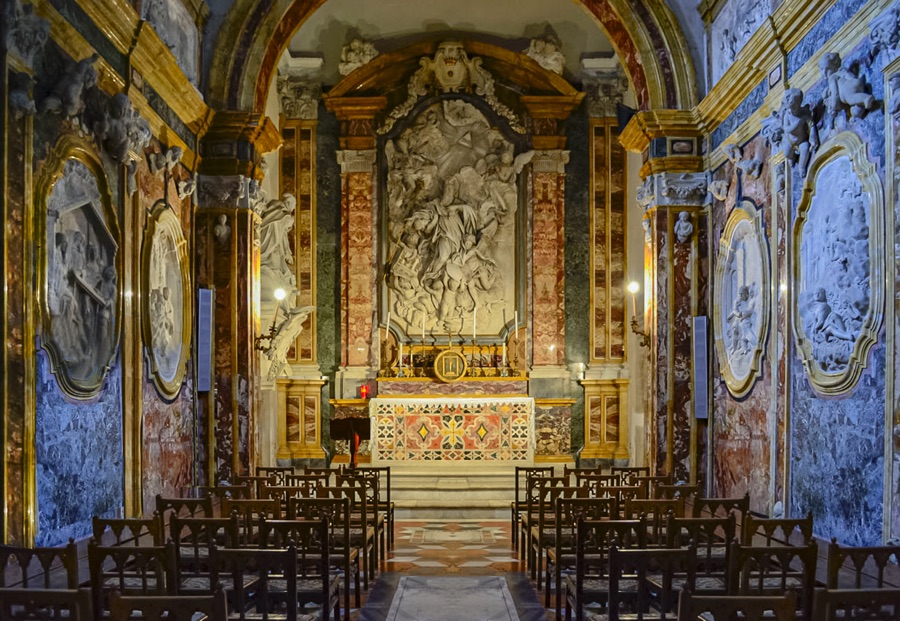 The medallions are made of white marble and have gilded frames, decorating the rich marble surface of the wall which is marked by pilasters with Corinthian capitals.
In 1776, Novelli's altarpiece was also replaced with a magnificent depiction of the Apotheosis of St. Benedict, commissioned as early as 1760 by Ignazio Marabitti
.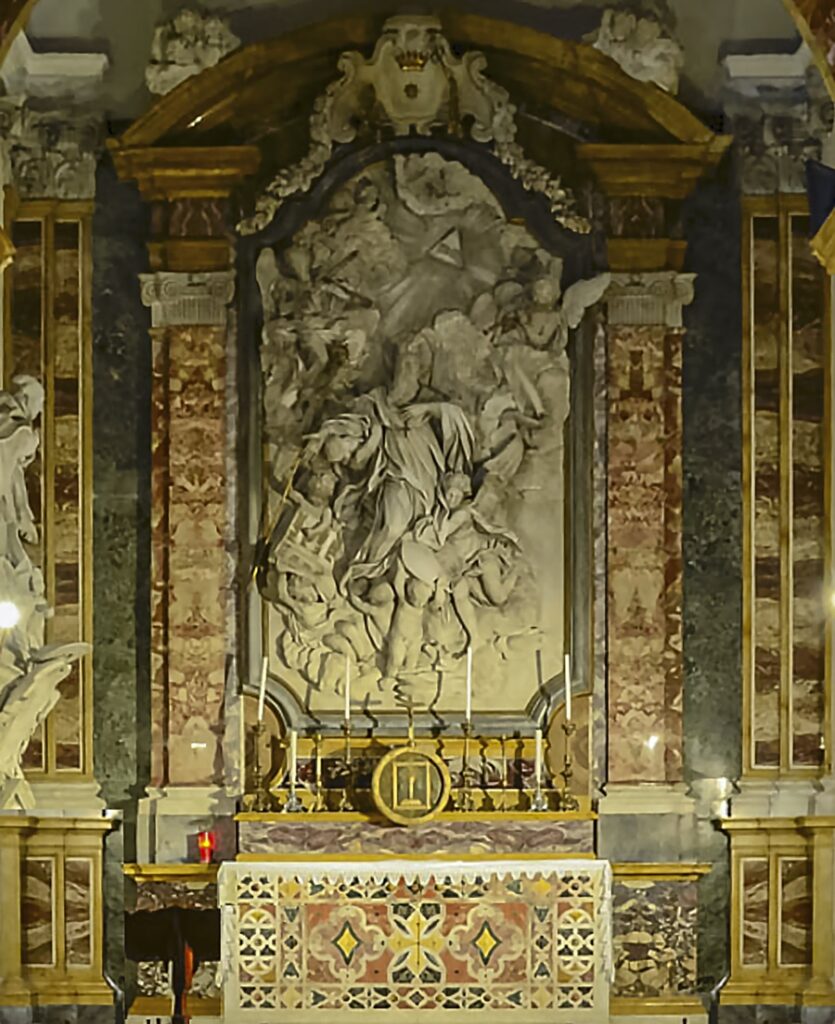 The priest Antoninus Romanus
, also appears in the contract as a witness.
Entirely made of Carrara marble, the piece depicts the Saint looking upwards, towards the Holy Trinity, in a blaze of pomp and glory.
Saint Benedict is depicted with one hand on his chest, wearing a golden halo and a draped tunic, complete with a long beard. He is surrounded by angels supporting him, playing the flute and the violin and holding his symbols: the mitre, the crosier and the rule. The whole relief is typically baroque and is characterised by a very animated scene, rich in pathos and embellished with gilded metal inlays. The funeral monument of archbishop Francesco Testa
can also be found. It was also built by Marabitti in 1785 after being commissioned by King Ferdinand.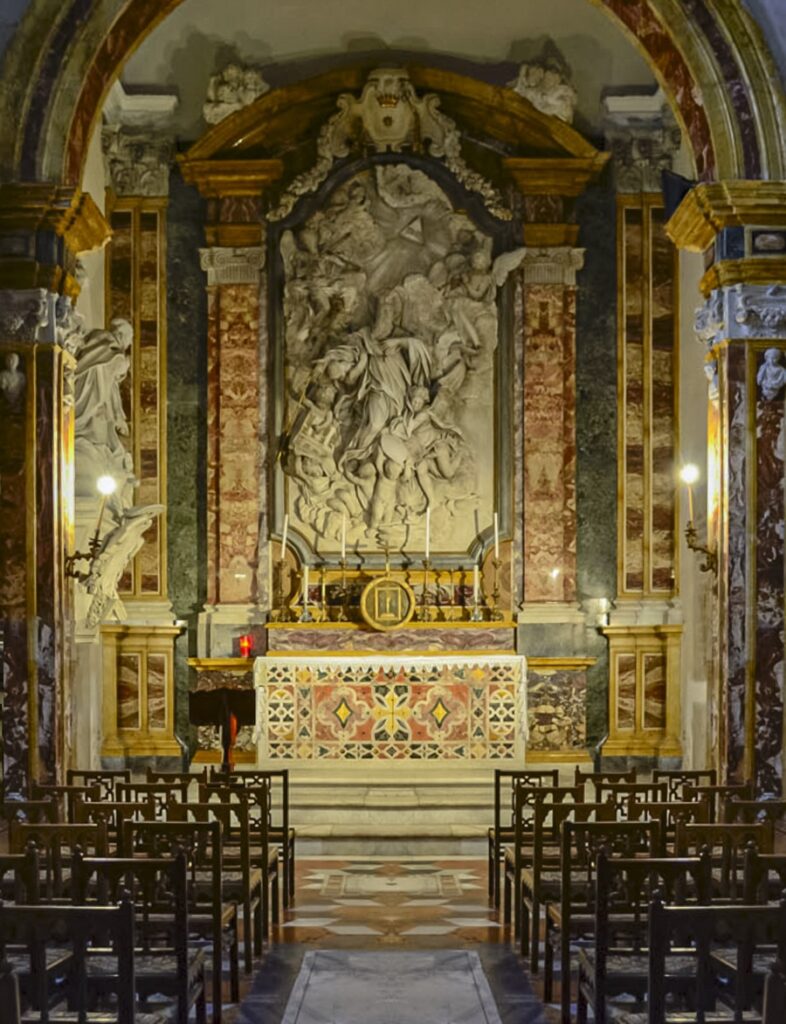 The monument depicts the archbishop kneeling and praying towards the altar, with one hand on his chest and surrounded by cherubs, one of whom is holding his mitre. The bishop's coat of arms and, lastly, the sarcophagus with the inscription are placed on the lower section.
The Chapel's ceiling is barrel vaulted, featuring lunettes carved into the vault and an oval medallion bearing the symbol of the Holy Trinity.