A significant trace, still visible in the architecture of Monreale Cathedral, can be attributed to Archbishop Giovanni Ruano
, who built the Chapel of the Crucifix, his main work inside the Temple. It was consecrated in 1692, after a short period of work between the date of its design in 1686 by the Capuchin Friar Giovanni da Monreale
, whose work was continued by the Jesuit Angelo Italia
, and its completion in 1690.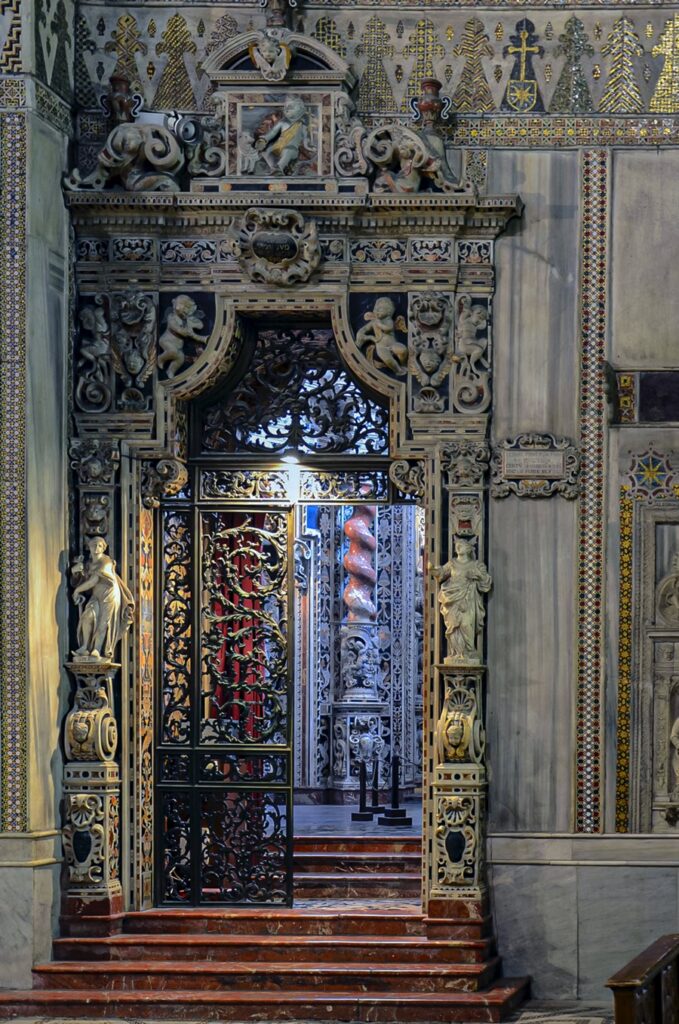 The portal
, decorated with sacred and profane themes
,  Is located at the side of the Chapel of the Sacrament, which is accessed from the left wing of the transept. The decoration already suggests the celebratory purpose of this space, which was dedicated to the veneration of the crucifix and at the same time to the burial of the archbishop himself and his successors.
From the architecture of this place, consisting of a lowered barrel vault
, it is possible to trace the original connection between the Church and the Royal Palace
, destroyed by Cardinal Giovanni Borgia
in order to build a road and later restored through the adoption of a covered passageway distinguished by grey marble walls.
Even from this area, the reference to the family of its founder becomes inescapable, as can be seen from the coats of arms that reach the ribs visible on the vault.