The medieval church had the apse
area as its only liturgical space. In smaller religious buildings, the apse had two small lateral service rooms for the safekeeping of sacred books and preparing the liturgy. In larger churches and cathedrals, these areas were enlarged, as in the case of the Cefalù Cathedral, through the construction of two apses mirroring the central one. Thus, in liturgical practice, the apse of the Prothesis
and that of the Diaconicon
took shape.
The first contained the liturgical objects intended for the offertory and the Eucharist, while the second was furnished with cabinets containing the vestments of the officiants and the sacred books. In the following centuries, the two minor apses lost their original function, becoming side chapels with altars and votive decorations.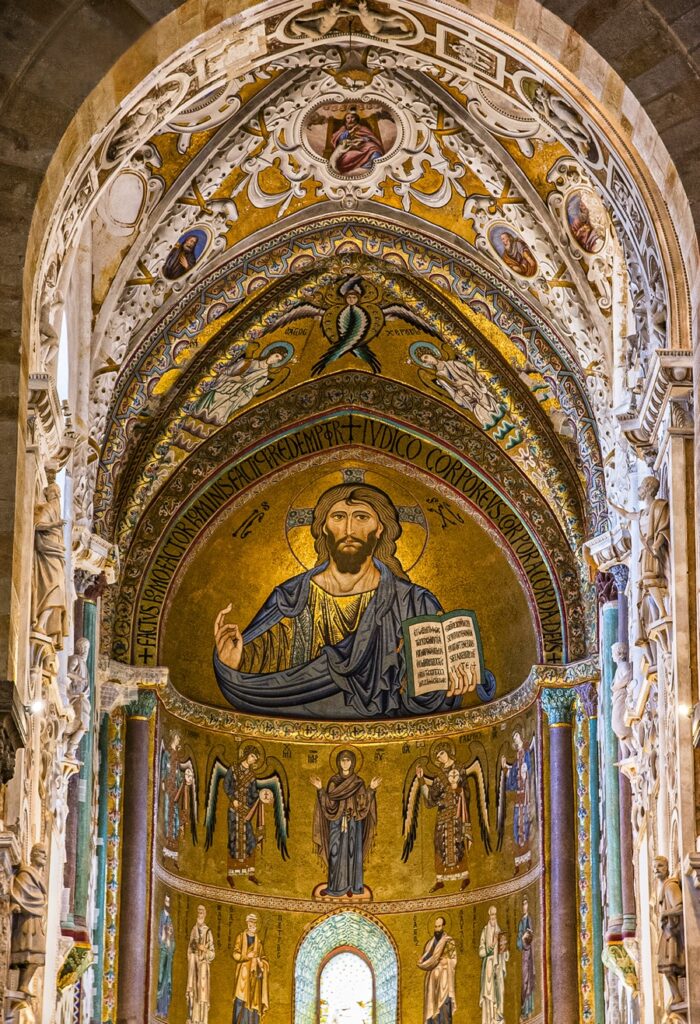 The Prothesis apse retained its original function to a certain extent, being transformed into the Chapel of the Blessed Sacrament
, the place where the Eucharist and the sacred objects
intended for the rite were kept. This change, with the overlapping Baroque decorations, also affected Cefalù Cathedral, which still has traces of it in the Cefalù chapel.

The Diaconicon apse, on the other hand, underwent profound changes in the early 20th century.
The finishes added in the 18th century were destroyed, with the unfulfilled hope of uncovering original mosaic ornamentation that was never actually made.
The masonry, devoid of any decoration, and the careless removal of part of the plaster, revealed the presence of a room built at the same time as the building, which must have connected the Diaconicon apse with the presbyteral space
, used as a royal matroneum
.