Following construction, which began around 1140 and was completed in 1143, work resumed three years later and continued over the years, at least until 1184, when the church was provided with an atrium in the form of an uncovered and porticoed trapezium, welcoming the faithful, a narthex
and an external bell tower in axis with the central apse
of the church.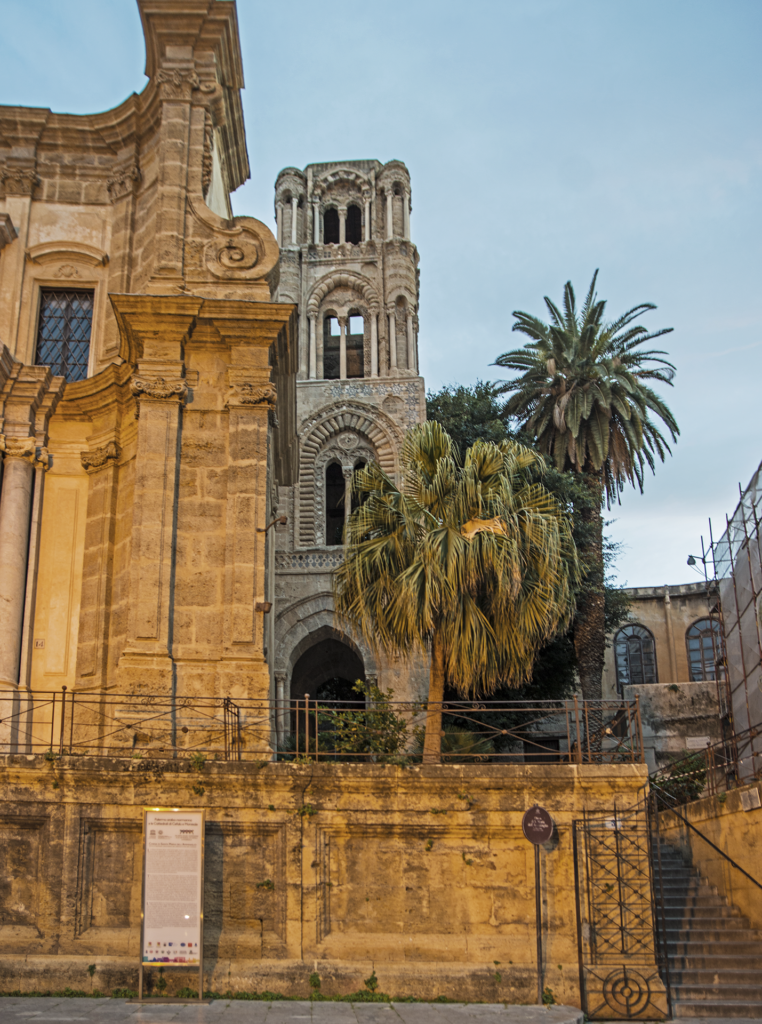 The narthex, in particular, which has been completely destroyed, had a rectangular layout and was leaning against the west wall of the church and enclosed within two walls along the north and south sides. The two mosaics were located in the narthex and then moved in the 16th century, with the dedication of George of Antioch and Roger crowned by Christ.
Numerous craftsmen, both local and from the East, worked in the various stages of construction during these decades. The original layout of the Church of Santa Maria dell'Ammiraglio, whose structure is made of squared stone, with a simple and compact volume, typically Byzantine, had a triapsidal Greek cross
layout, set in a square and oriented with the apse facing the light, and therefore the east, and the façade to the west.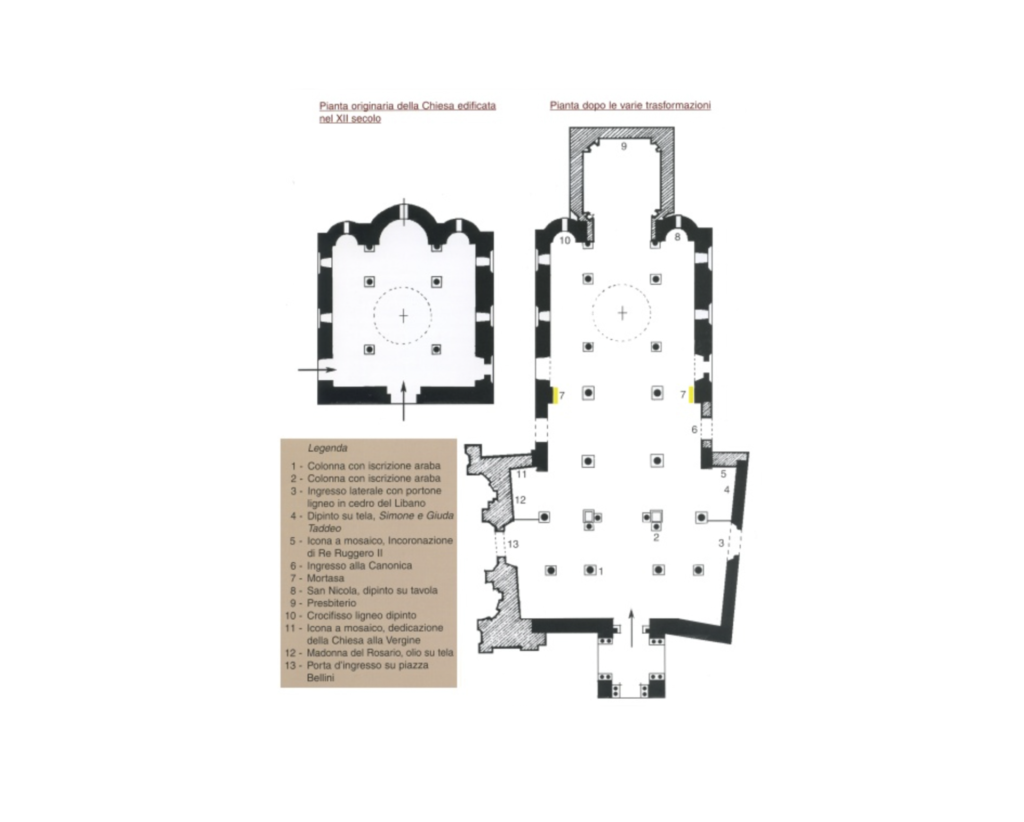 The Syrian-style Byzantine Orthodox dome still stands in the centre of the church, whose dimensions were 12.5 x 12.5 meters, on a high octagonal drum, with cylindrical corner niches embellished with concentric rings. Thanks to the dome, the church reaches a total height of 15.5 metres.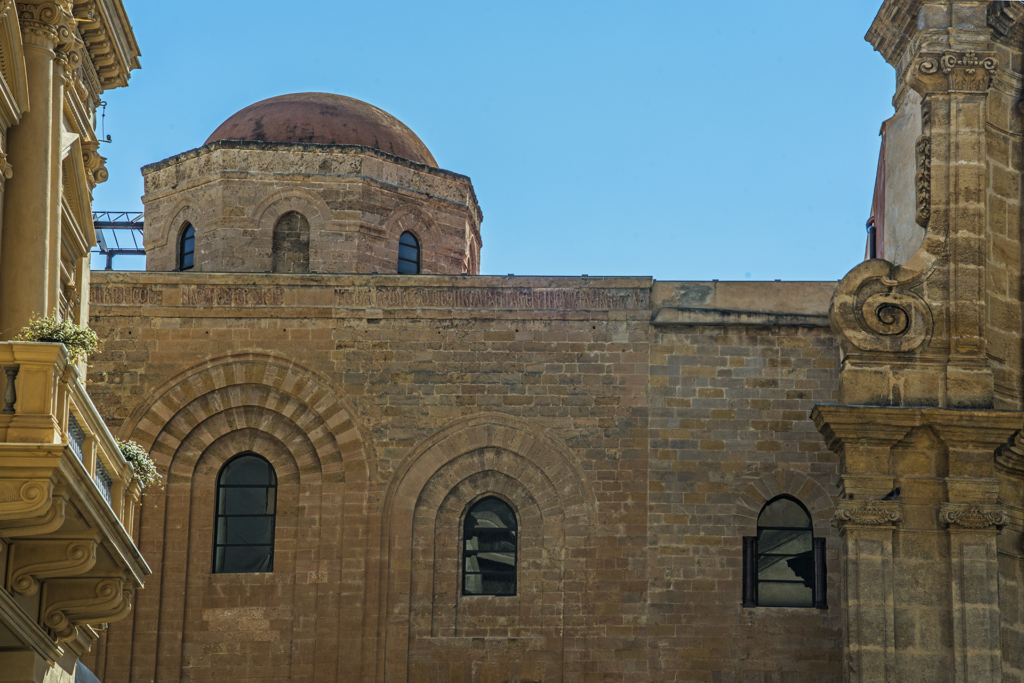 Although today the exterior is characterised by the striking Baroque façade, corresponding to the north side of the church, it had another structure, which has been erased over the years by numerous renovations and restorations. In order to adapt the church to the needs of the Latin rite, the interior was also modified: the floor plan was lengthened, creating the classic three  naves and the space in front was covered and incorporated into the building. During these works, at the end of 1600, the central apse, uniform to the two lateral ones, was replaced with a square chapel.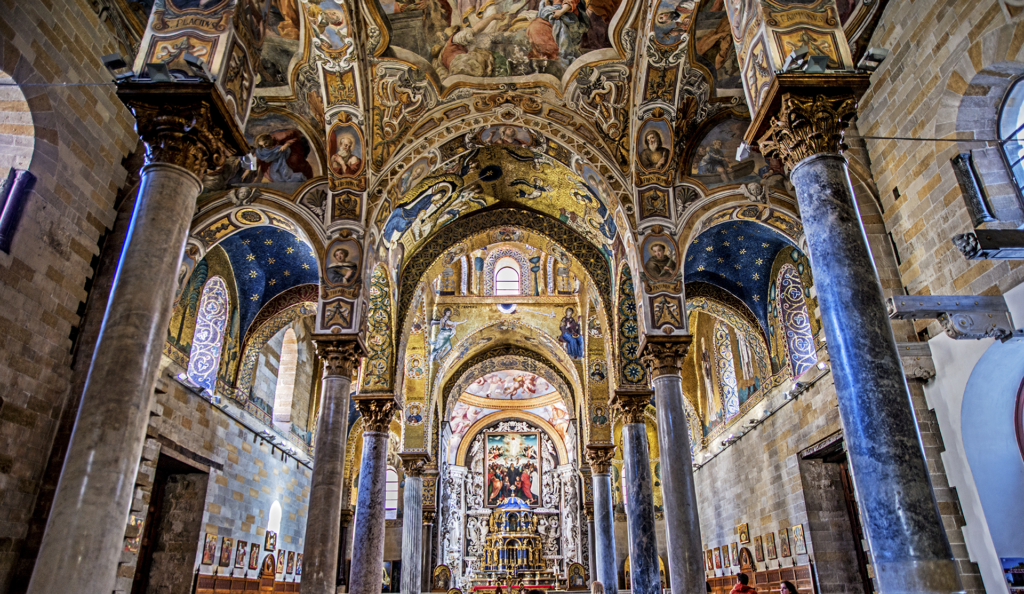 Restoration work by Giuseppe Patricolo
dates back to the 19th century, when the church was freed of some unsuitable additions.