In the Cathedral of Monreale, there is a particular spatial composition of the presbyteral area
, consisting of a double volume, in some cases also called double transept
.
It is this typology, unique in Sicily for Norman churches, which also distinguished the Palermo Cathedral
, in its original layout, now appreciable only from the view of the external volumes.
The space of the sacred area of the Sanctuary is divided into two large rooms, distinct from the church hall
because of its higher position, connected to it by some steps.
The whole area is generically called the Great Chancel
, and is effectively divided into three distinct parts: the larger central part, closer to the hall, is more properly called the Presbytery
.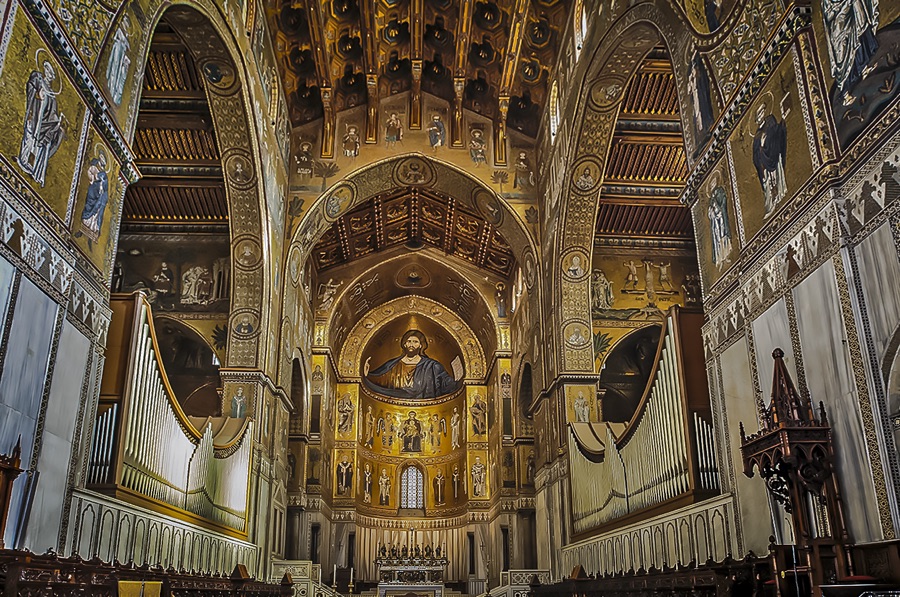 This is delimited by two narrow transverse spaces: the Anti-Presbytery Floor
, towards the hall, and the Post-Presbytery Floor
, connecting the side apses with the Tribuna maggiore
of the central apse
. These spaces in Palermo Cathedral are identified with the ancient name of Titulus
, corresponding to the presbytery of Monreale and Antititulus
 with the space of the Post Presbytery. In Palermo Cathedral, the Titulus was the area designated for the Cathedral's Canons Titular
, who took their place in the choir
. The bishop's chair and the royal seat were located in this space. The cemetery area with the sarcophagi
of the kings and bishops were located on either side of the Titulus. Similarly, and still visible today, in Monreale, the choir is located in the space of the presbytery and the adjoining side parts are dedicated to containing the royal sarcophagi.