The palace was designed according to harmonious metrics, where the golden ratio is often found in its measurements. It has a parallelepiped shape and a compact, austere volume, lightened only by the rooms in the façade which are inserted in a rhythmic, discreet way.
The ground floor is distinguished by the presence of a large porticoed corridor
, open on the short sides, and with three access arches
, with double pointed arches
, on the main façade.
The larger central archway corresponds to the arch framing the entrance to the fountain room
.
Along the axis of this space is the channel that connects the internal basins, fed by the fountain on the wall of the room, with the small fishpond, located outside, in front of the façade, in a symmetrical position.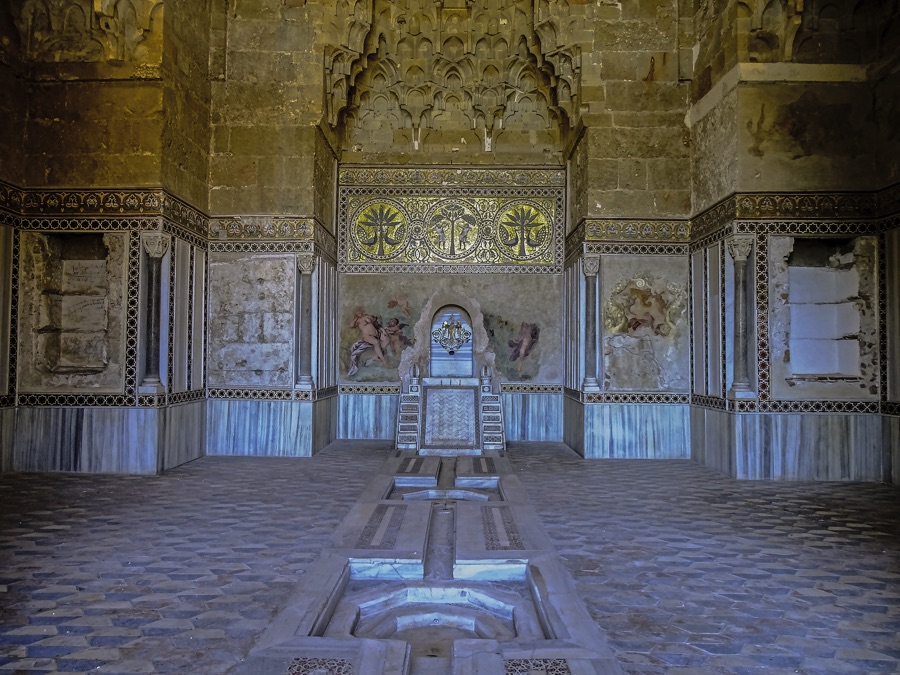 The ground floor, whose main room is the Fountain Room, contains other smaller lateral service rooms. The first floor extends over the two side wings as the central part is occupied by the bulk of the fountain. The second level features a distribution of rooms throughout the floor and follows the layout of the ground floor, replacing the central room with an atrium, originally open to the sky and then covered by vaults in the 18th century.
Every part and every architectural element had a precise function. The side turrets contained ventilation ducts to ensure a suitable air conditioning system. The air was thus channelled to cool the rooms by taking advantage of the circulation of the currents and the exposure of the building in both its lit and shaded areas.