Monreale, together with Cefalù, represents an example of Church-Cathedrals
with an annexed convent cloister
, rare in Europe.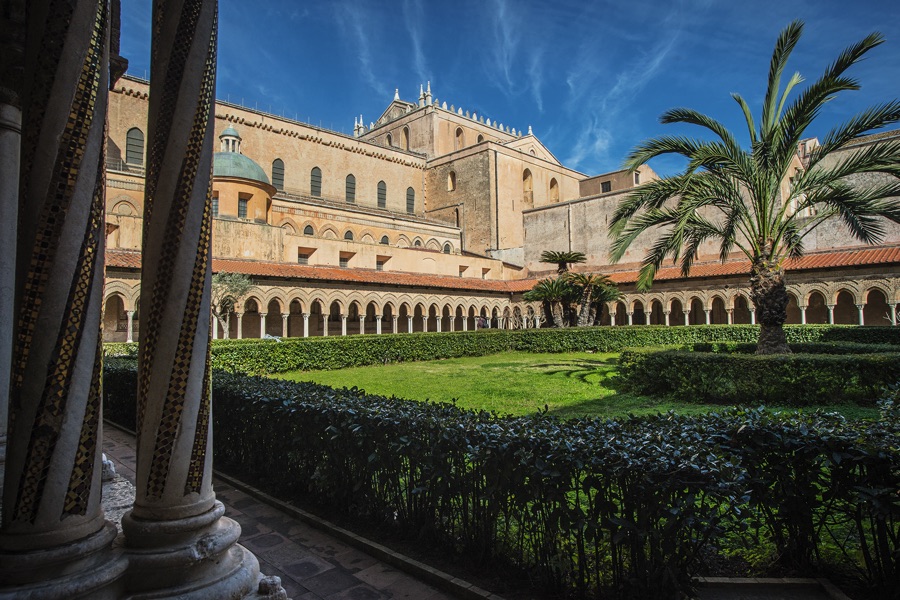 In the Middle Ages, it became the beating heart of monastic life by combining spiritual and functional aspects, while at the same time fulfilling a liturgical function for the processional ceremonies held in the adjacent Cathedral. Inside the aisles, the east side housed the chapter house, in contrast to the refectory located to the west. The south side housed the dormitory, while the body of the church still forms the northern front.
In this space, the sculptural Romanesque decoration becomes the interpreter of the courtly language which, in the East
, was represented by the magnificence of the mosaic ornamentation.
The  multicultural expansion
of the Norman kingdom introduced not only Byzantine East and Islamic languages to Sicily, but also Provençal artistic forms.
Unlike the Cefalù cloister, whose position on the north side of the cathedral is a result of the land's orography, the Monreale cloister is located, according to canonical rule, against the cathedral's southern front. However, some similarities can be found in the architectural composition of the lanes, in which twin columns
are used in both cases.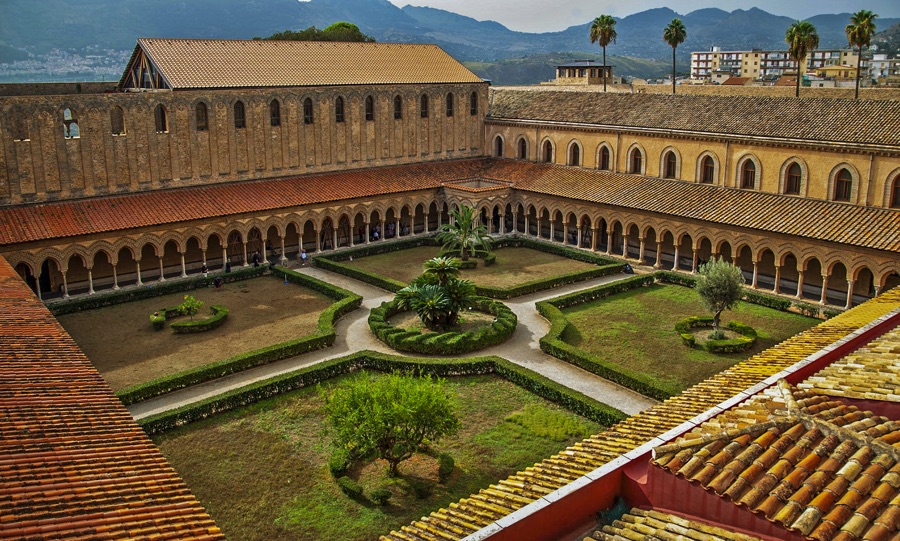 A fundamental and highly symbolic role in the cloister, a green space imbued with peace, silence and spirituality, is played by the plants in the garden and the water. The garden does not contain flowers, which are instead carved into the stone of the capitals, but, divided into four parts, it is an oasis for four "biblical" plants: the fig, the pomegranate, the olive and the palm.
The first two plants, the fig and the pomegranate, refer to the Old Testament, as they are considered to be historical. The fig tree is located in the south-east and symbolises the Garden of Eden and therefore the place of creation.
The pomegranate tree is located in the north-east, in the garden of the Song of Songs, where the groom meets the bride. For the New Testament, the presence of symbolic plants is notable. The Olive tree, an allegory of Gethsemane and the future Easter, is located to the north-west, while the Palm tree, in the garden of the Apocalypse, is located to the south-west.
Water, a fundamental element of the cloistered space, a sign of salvation and purification, spouts from the lion and human mouths of the singular fountain
, located at the corner between the western and southern aisles, a palimpsest of different stylistic characters. The fountain, named after the king, gives the cloister the image of an enclosed garden, an allegory of Paradise.