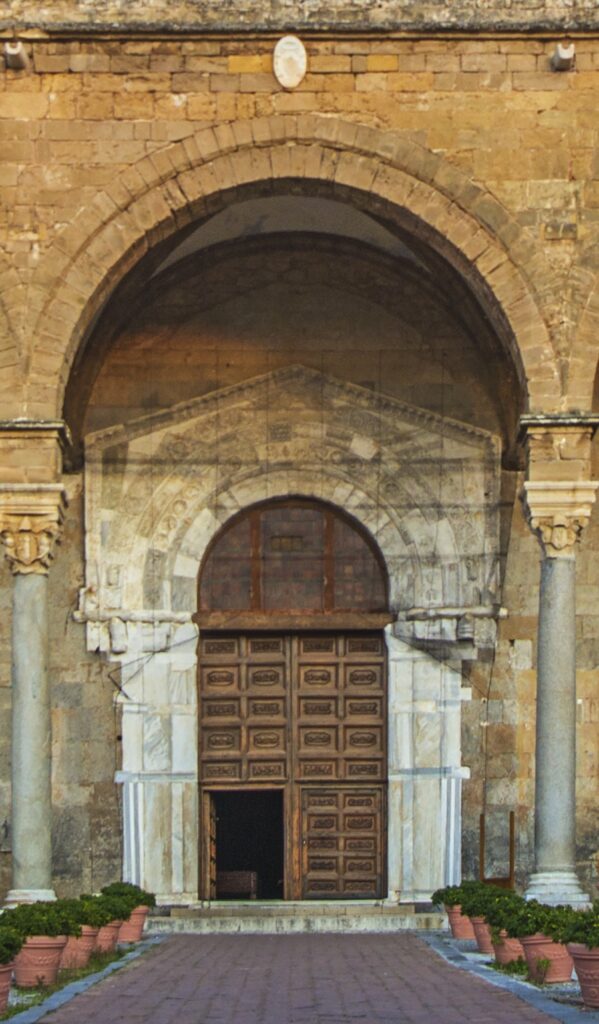 The ancient portal, dating back to the second half of the 12th century, is still a fine example of architecture today, although time has compromised the sculptural work by master stone carvers from the Romanesque period. It became part of that vast programme of furnishings aimed at embellishing the Cathedral, both outside and inside its spaces.
The full-centred arch
, particularly typical in Sicilian Norman buildings,has an undoubtedly Islamic influence in its plastic composition and arabesques
. Its particular curvature seamlessly converges with the decoration, giving free rein to a culture that is now worthy of artistic recognition and devoid of profane characteristics. Various white marble friezes
, arranged in a harmonious manner, decorate the door jambs
and the archivolt
. The Cefalù portal may have originally been preceded by a cusp-shaped prothyrum
, with the two merging into a single body due to its rather low dimensions close to the wall.
Over the course of time, because of its typology, it has been compared to the 11th and 12th century Apulian portals, such as the one in the Basilica of San Nicola in Bari
. However, the most conforming comparison is with the Monreale portal
, which gives us an idea of what it must have looked like in its entirety. In the parts that are still legible, motifs can also be found in the mosaics inside the cathedral and in the capitals
of the of cloisters.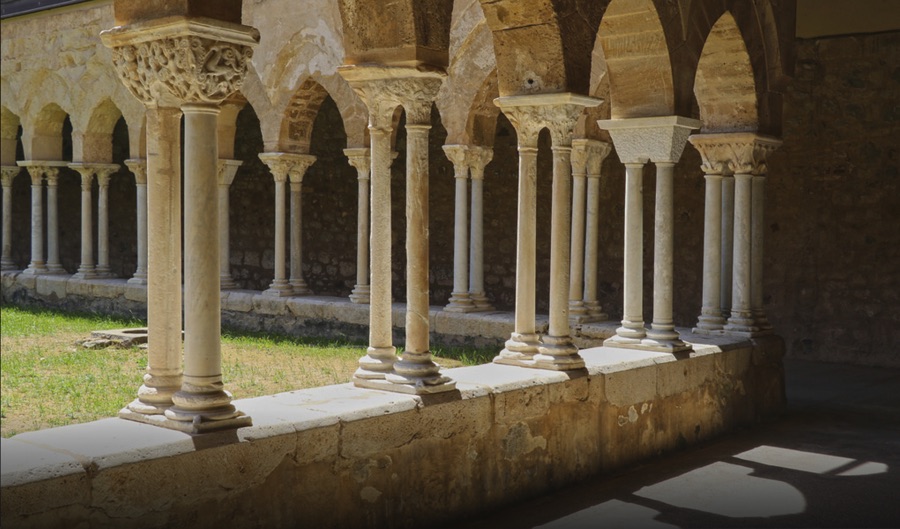 The presence of projecting elements, including a corbel, gave dynamism to the complex decorative arrangement, which was undoubtedly influenced by the miniature
in the transmission of models from northern workshops to southern Europe and across the Mediterranean basin.
Animals crowning other hypothetical architectural elements, plant whorls and beings with sinuous movements, perhaps chameleons, precede the sacred image of the crucified lamb, which is located at the apex of the composition in a loop resembling an almond.
The heterogeneous iconographic programme echoes the more complex Majestas Domini
formula of Romanesque and Gothic portals.