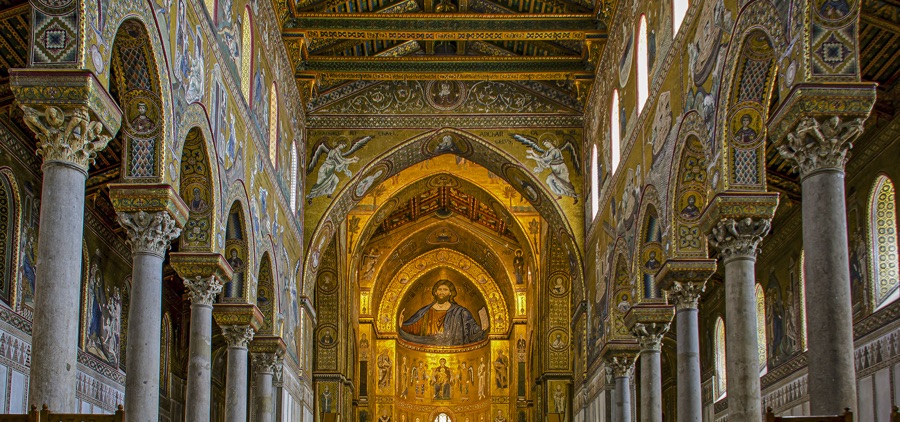 The mosaics of the nave
, featuring scenes from the Old
and New Testaments
, as well as the interplay of columns that runs through and punctuates the interior of the cathedral, seem to accompany the faithful on a salvific journey that crosses the presbytery
and culminates, in a Christo-centric line, with the King of Kings, the Christ Pantocrator
, placed at the centre of the apsidal dome
.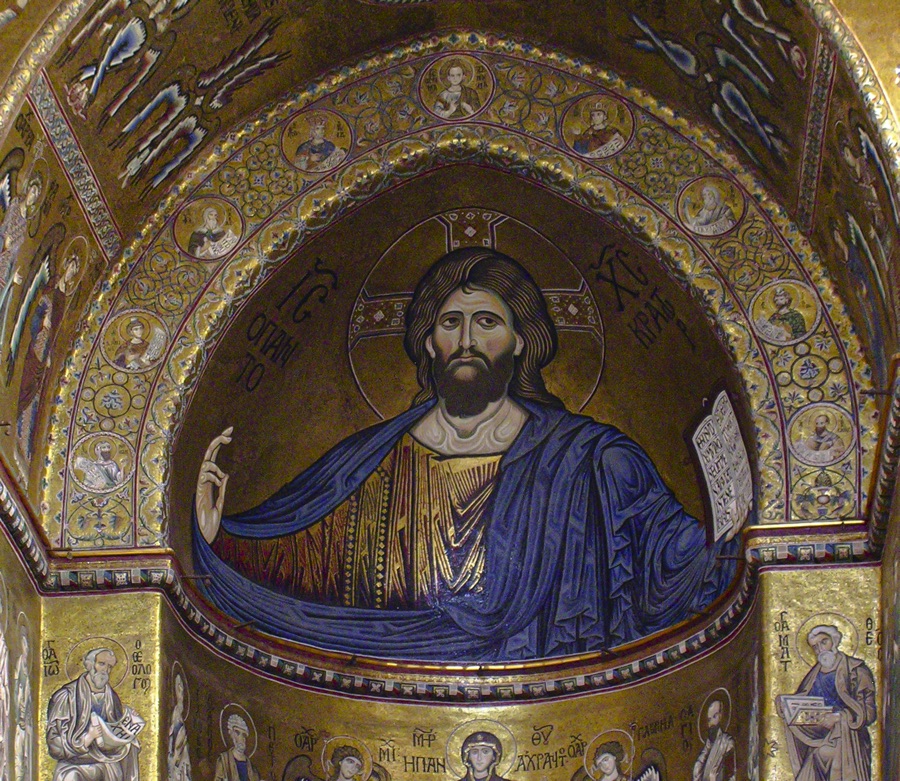 A mosaic cycle which, partly thanks to the figures of over two hundred and fifty saints mainly represented in the sub-arches, invites us to contemplate and look towards Christ, the bearer of justice and salvation.
The presbytery is divided into the left wing, known as St. Louis bay
, the choir and the right wing, known as the Williams' bay. The first is so called because it houses the reliquary altar of St. Louis
, at the end of the northern wall of the room; while the Williams' bay houses the sarcophagi of the kings of Sicily
, William I known as "the Bad" and the commissioner of the entire complex, William II
. It may be noted that, in comparison with other Norman buildings, the presbyteral part has very slight projections in relation to the rest of the basilica, with the arms of the transept
being less pronounced transversely.
The presbytery , located in a raised position, is accessed via a few steps; the space is marked by a series of triumphal arches
, which divide this large and wide area into various sections, where architecture, decoration and colours take part in the grandiose iconographic programme that tells the story of Salvation, from the Creation of Man, through sin to the triumph of Christ.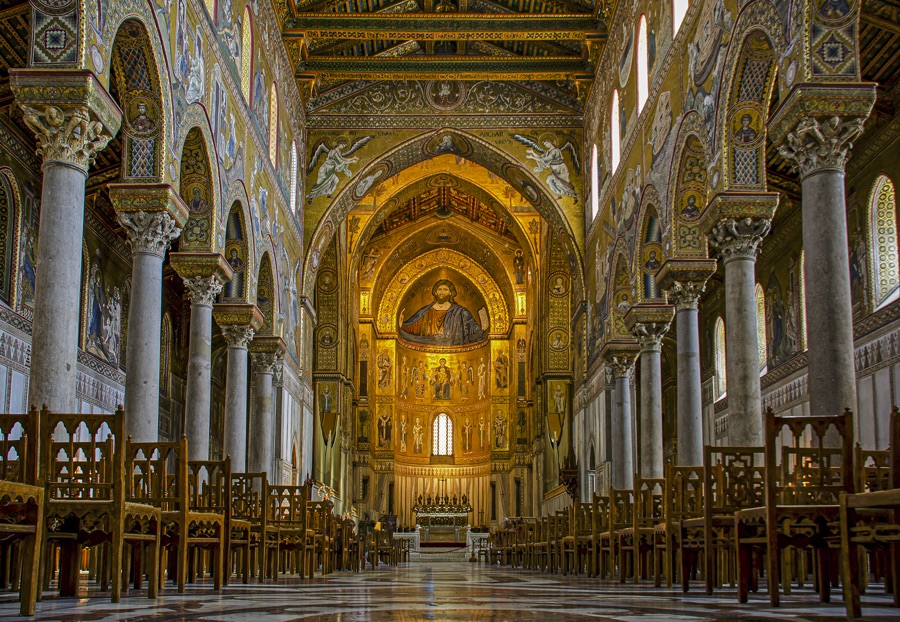 In the middle of the first large entrance ogival arch
, the Sapientia Dei is depicted, introducing the Cathedral's entire mosaic cycle, as it accompanies all of God's work; it is represented as a crowned and veiled woman between archangels Michael and Gabriel
. The other triumphal arches, regal and majestic, are arranged in a progressively ascending order and are decorated with clipei
, representing kings and prophets
, and images of angels and saints
leading to the last arch, the one that surrounds the apsidal basin, where the Pantocrator is depicted.
The etimasia
, i.e, the empty throne that will welcome Christ, universal judge, at the end of time, as narrated in the Revelation, can be seen in the vault.
Two other arches, depicting saints and martyrs
, give access to the presbytery from the northern and southern transepts. In the pillars, positioned above the royal throne
and the bishop's seat
, the purely political scene of William II being crowned by Christ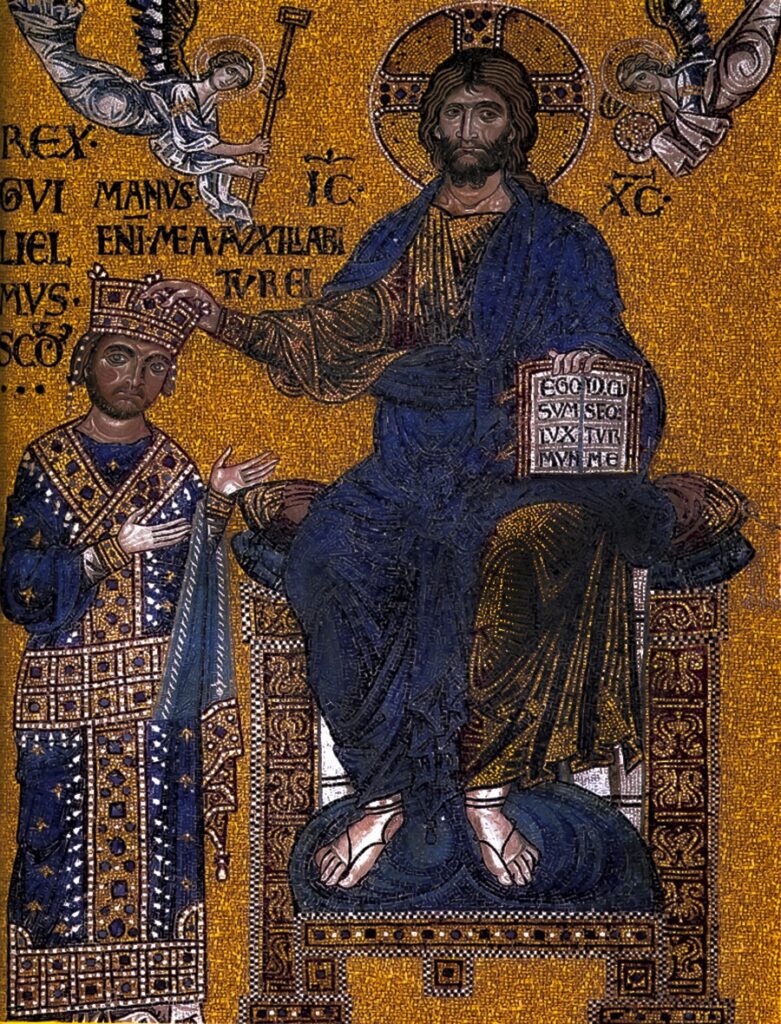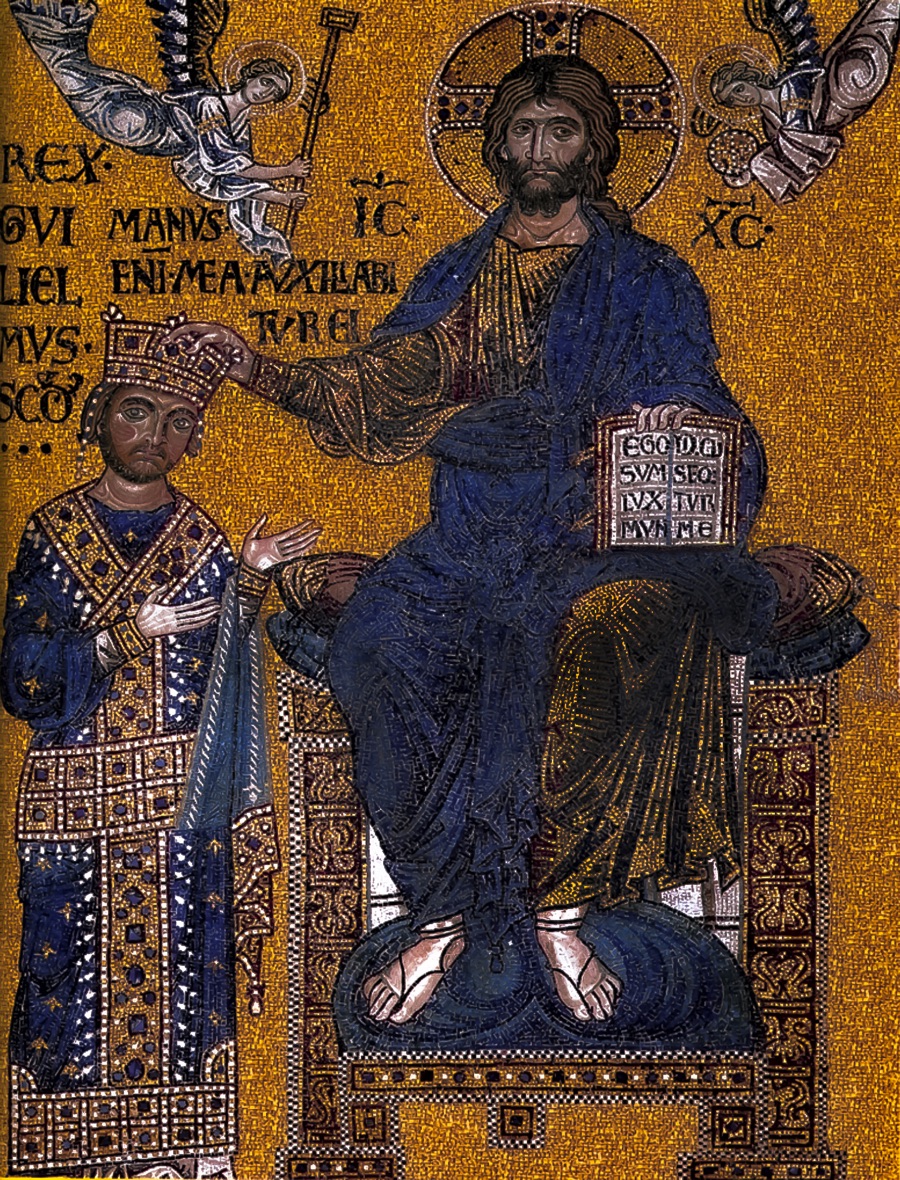 and the one with the the sovereign gifting the Monreal
Cathedral to the Virgin Mary can be found respectively.