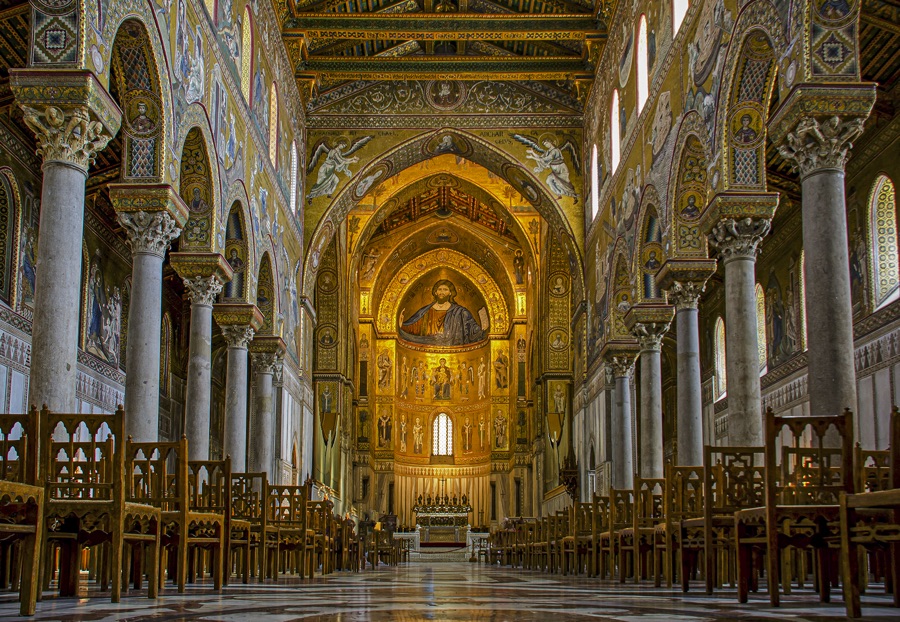 Stopping at the centre of the main nave
invites us on a kaleidoscopic journey through time, starting from the eight arches that follow one another on each side of the longitudinal body.
They are supported by eighteen columns, which are equal in height with the exception of the two columns near the entrance and the second column on the right.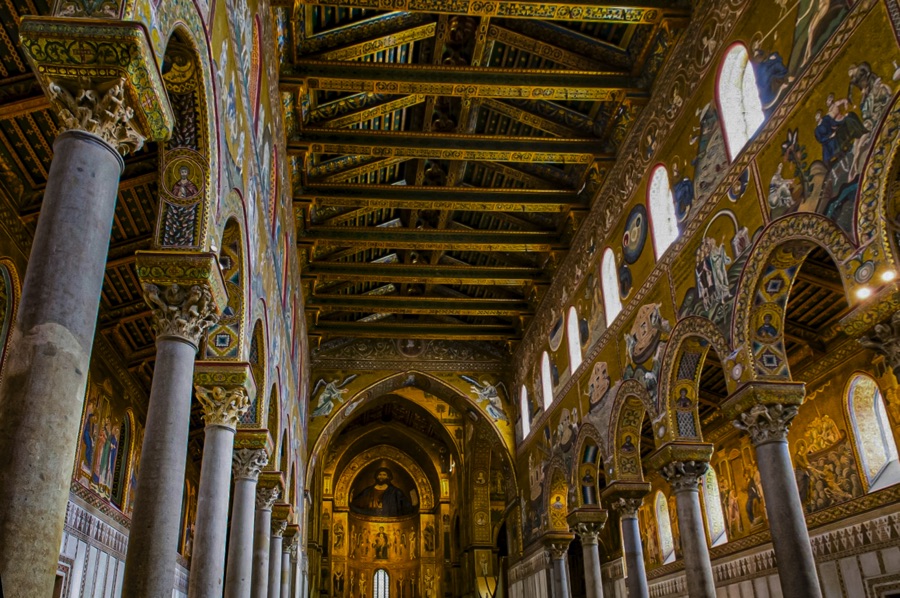 The balanced succession of grey granite, imbued with reddish hues, which forms the monolithic shaft
of seventeen columns contrasts with the grey cipollino marble with green veins that forms the first column to the right of the western entrance, added in 1356 and relocated to its current position in the first third of the 19th century.
This order, which was not left to chance and in which every slightest difference in the height of the shafts was compensated for, with tacit complicity, by the size of the plinths
, must have appeared even more uniform during the reign of William II
.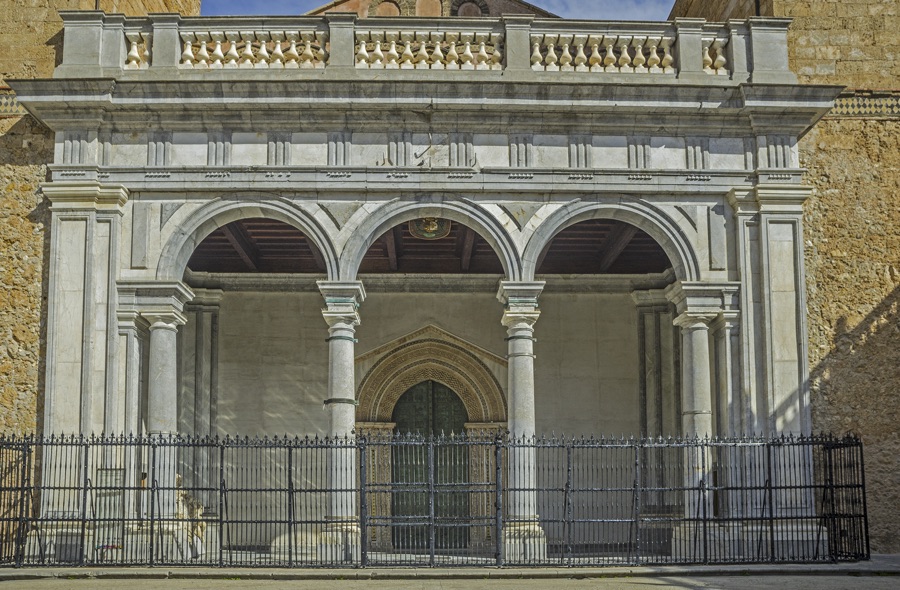 In this organic perspective that envelops the senses as soon as you cross the threshold of the Gate of Paradise
,  created by Bonanno Pisano
, we can't help but focus on the composite acanthus leaf decorations of the Corinthian capitals
, unexpectedly interrupted by the dynamism of the figured capitals.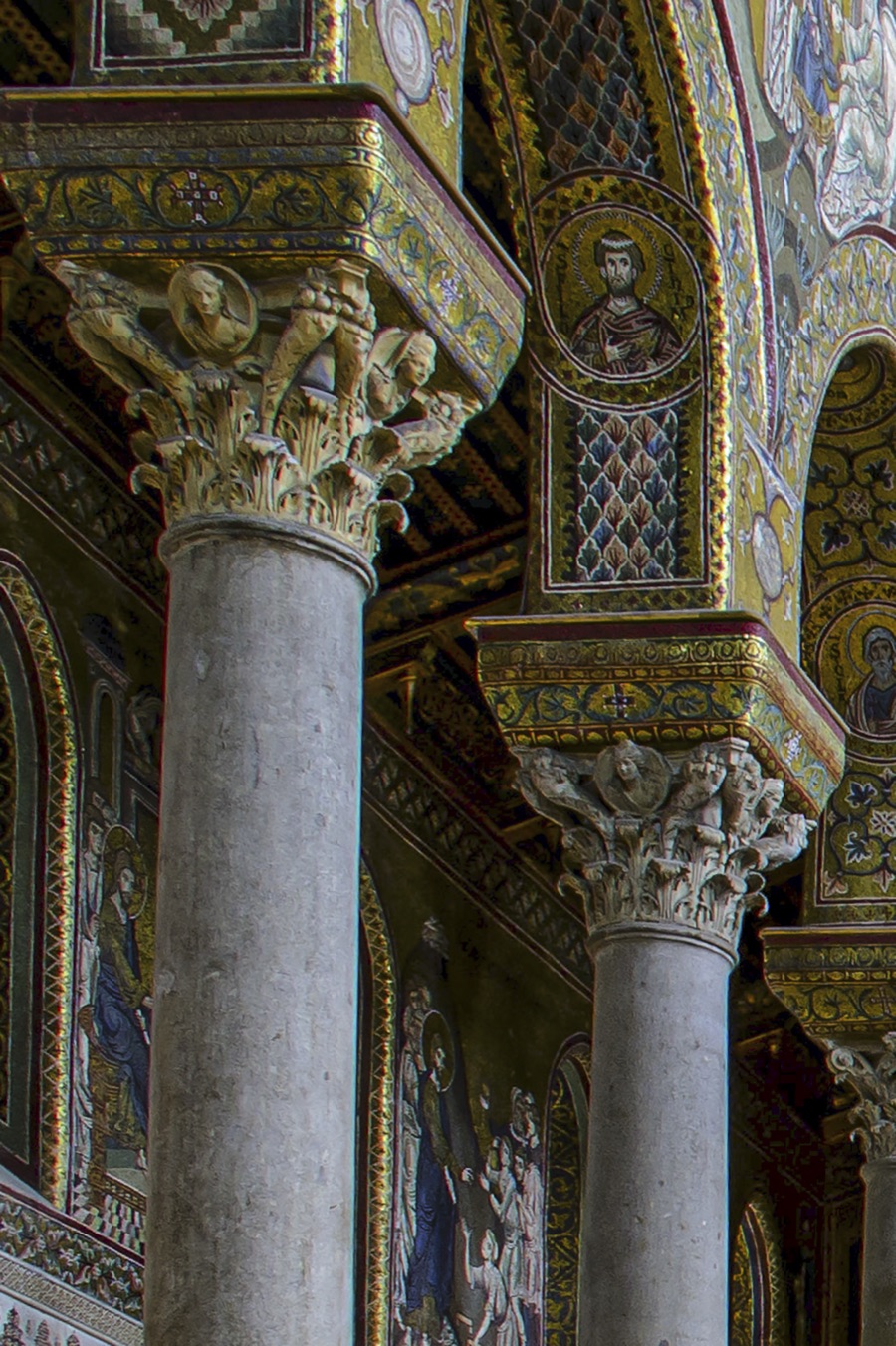 They are larger than the first ones and are arranged, in no particular order, at the top of columns which are smaller in diameter. They are distinguished by the presence of imagines clipeatae
surrounded by cornucopias.
The choice, which follows the Monreale Cathedral tradition of a column-lined basilica, was already used in Cefalù Cathedral, which was used as a template for the layout and proportions of the nave. The model is based on an architectural tradition dating back to early Christian times and revived in the 11th century in Benedictine and Cluniac religious buildings.
The presence of spolia columns and capitals, reused in the Workshop, is a tangible sign of the desire of the times, for the king and the clergy, to emphasise the cultural advent of the Christian West.