The sublime feeling that greets those who enter the Monreale Cathedral takes the form of a dialogue between different cultures, starting from the feeling of infinity symbolically profused in the message of faith inherent in the Western Latin tradition
and then manifesting itself in the ethereal luminosity of Eastern Byzantine art
and Islamic components
embedded in the architecture.
William II
's programmatic adherence to the reformist direction of the Western Church facilitated the introduction of differently inspired elements into the Cathedral to form a new unity.
The sovereign's far-sighted political plan, which linked the cathedral, the monastery
connected to the seat of an archbishop and the royal palace
, stemmed from the desire to make Monreale the 'great church' of the Sicilian-Norman state at the same time, with the aim of becoming not only a royal foundation, but also a dynastic burial place and monastery.
In the southern arm of the transept
, the historical grandeur of William II's project is reflected in the area reserved for the royal tombs. The remains of the Temple's founder are kept in a white marble sarcophagus, commissioned by the archbishop Ludovico I Torres
, in 1575.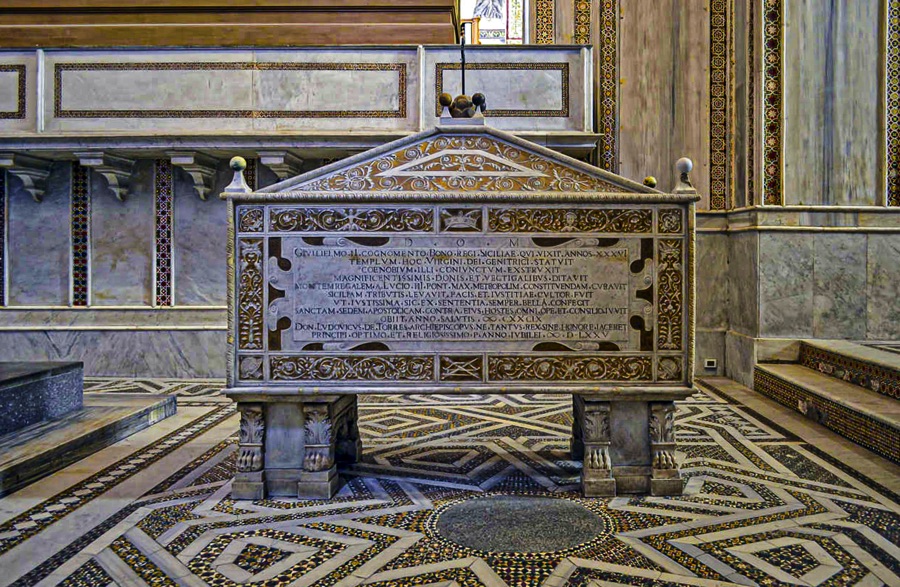 It is supported by brackets with a zoomorphic base, finely decorated with friezes carved with foliage and classical winged putti. On one of its larger sides, it bears a long laudatory epitaph
, composed by Antonio Veneziano, a poet from Monreale, and engraved on a cartouche plaque. The ends, bordered by plant spirals, contain the Torres coat of arms on one side and that of the sovereign on the other. A clear reference to the porphyry tombs, preserved in Palermo Cathedral, can be seen in the red porphyry tomb
, which houses the still intact body of William I
.
The body was carefully embalmed by his son. The tomb, damaged by the 1811 fire
, was stripped of its six porphyry columns, three on each side, which supported a marble canopy.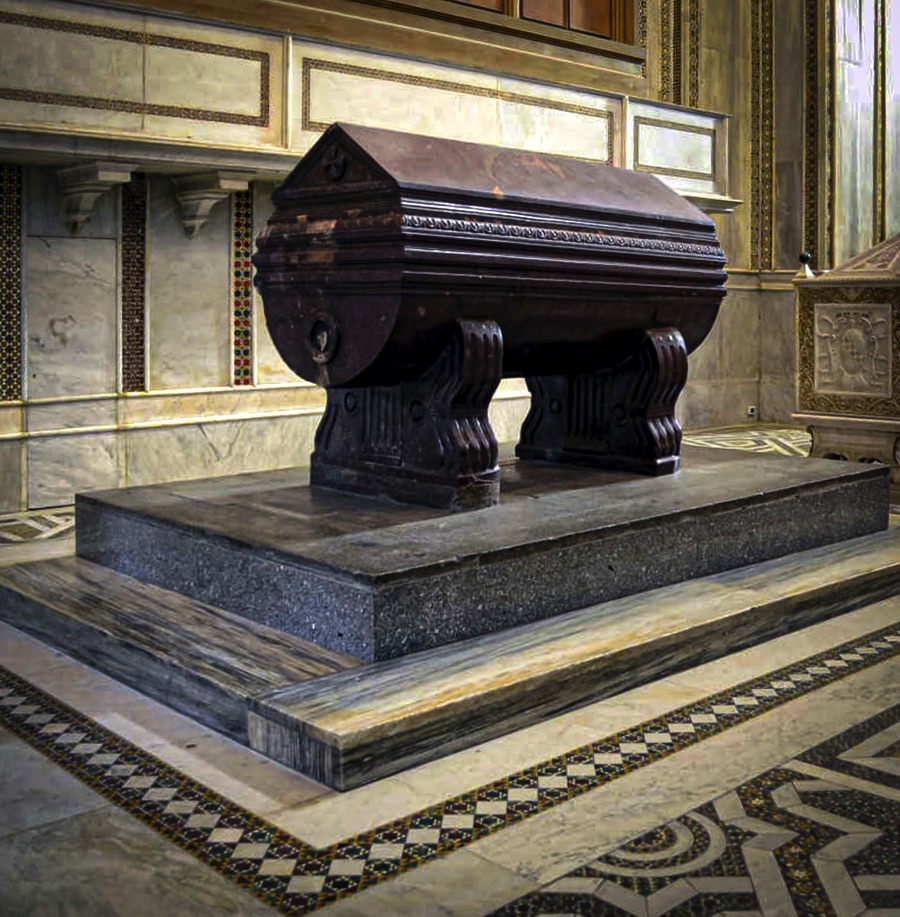 Unlike the decorative richness of the coffin belonging to the founder of Monreale Cathedral, the one reserved for his predecessor contains no inscription. Raised on three steps and supported by high corbels with wave-like lines, it is characterised by its austere composure, interrupted only by the presence of a sculpted diadem, ring and poplar branches, the symbol of sovereignty.