After 1154, the architects and craftsmen worked to reduced the height of the nave
and, consequently, that of the side aisles with their respective windows, with respect to the original design, which was followed until the construction of the triumphal arch
in the transept
.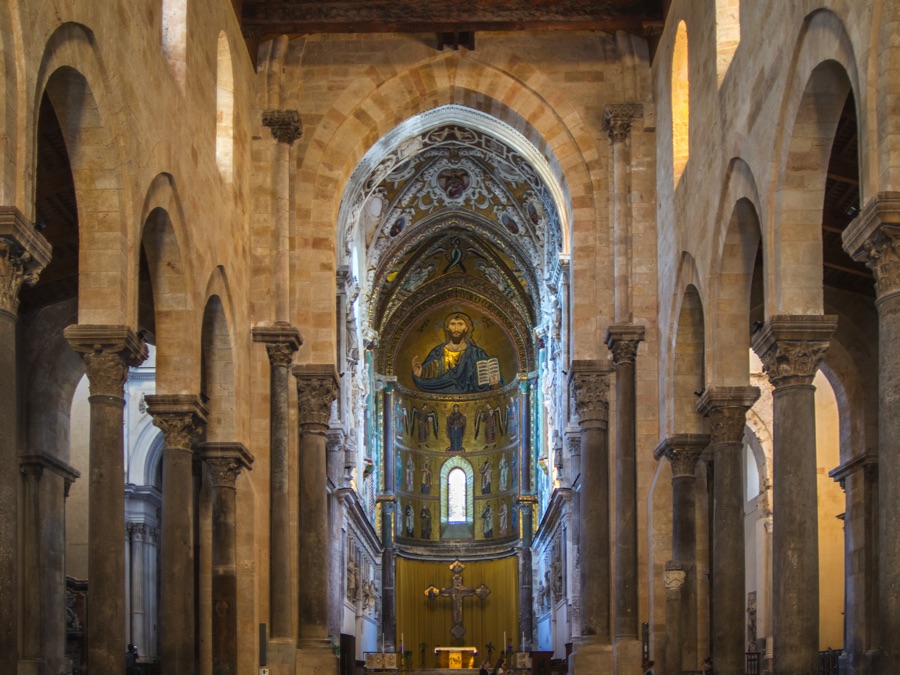 The monumental arch, dating back to Roger's reign, which can still be seen outside the building, is raised above the roof covering the lowered nave, which began being built in the second half of the 12th century, at the same time as the roof. These design changes involved the construction of an internal counter-arch , connecting the western front of the transept with the nave. There is no doubt at this point that if the original unitary project was intended to reflect a unitary design, it should have included the architectural development of the entire complex without creating the current difference in height between the church and the cloister. However, the project was addressed the area from the apse
up to the end of the transept, as well as the great triumphal arch, part of the foundations and the first elevation of this area. It is assumed, from these changes that occurred over time, that the cloister was built at a later date, concomitant with the construction of the aisles, as it must have stood on the outside front of the northern aisle.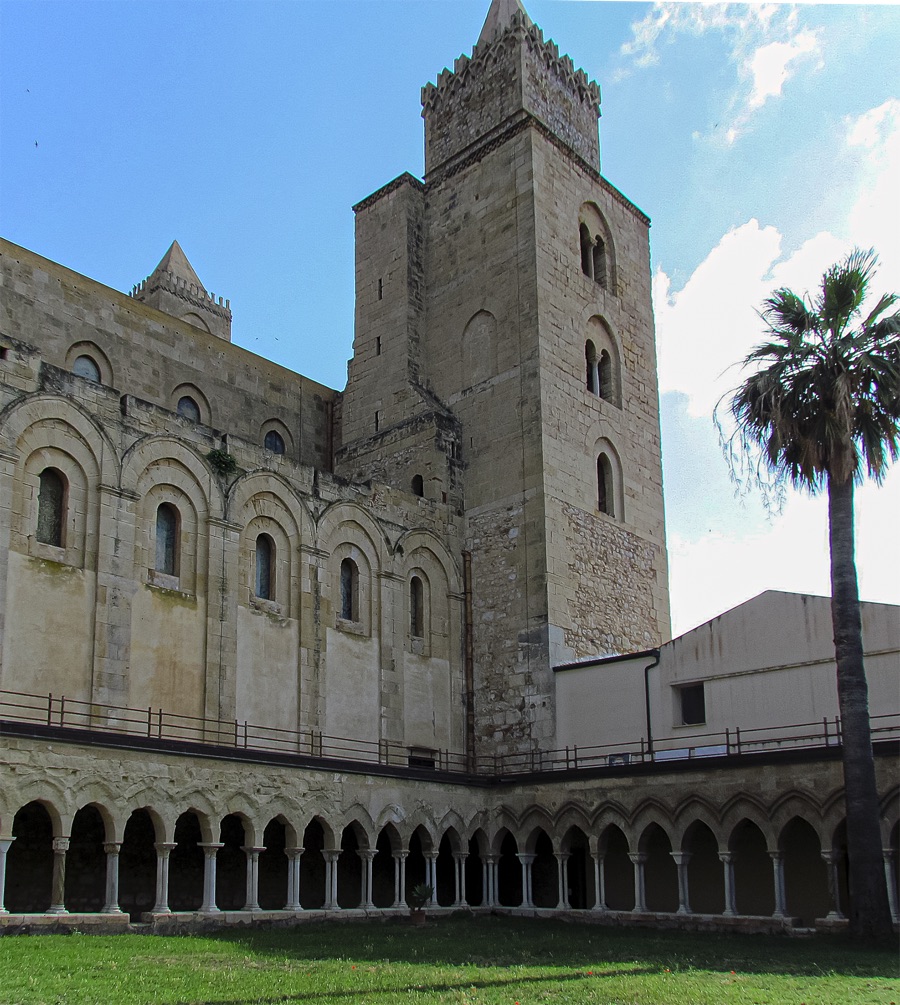 The entrance to the cloister, contemporary with the work of Roger II, was located, in accordance with liturgical rules, on the left side of the transept and had to coincide with the floor level of the naves, which at the time were already laid out but had not yet been completed. The transformations made to the volumes of the architecture after the death of the king of Sicily never allowed the original door to be used in its complete form. In a first phase, in order to reach the level below, the ogival-arched room was lowered with the creation of an architrave. Steps were created inside the imposing masonry, from which a lateral staircase, of which traces remain in the stone, descended to the level of the porticoed courtyard, in the eastern aisle. Subsequently, the initial opening was abandoned, and a new door was opened in the 16th century, located in the left aisle, close to the tower. A wide stone staircase departed from this room, towards the western aisle, largely cluttering the space. Following recent restoration work, the first large door can now be better seen. Inserted in the western front of the transept, it was certainly designed to lead into the adjoining cloister, even though it was placed on the exit level of the transept floor. It is now about three metres higher than the current walkway of the cloister aisles. The direct connection between the Cloister and the Cathedral, originally intended to be coplanar, was irreparably compromised during the construction of the left aisle. The reduction in the heights of the walls and the setting of the relevant windows resulted in a strong inconsistency with the heights of the door and the position of the windows in the aisle. The idea of creating an embankment in order to level Cloister with the Cathedral was never considered.