Starting from the late Republican period, the public buildings and residences of the Roman aristocracy were embellished with marble in white or bright colours; their use aimed to give prestige to the rooms that were covered with them, as in the most important space of the Villa del Casale, the basilica
, designated by the dominus for official audiences.
In fact, it was the only room to be completely covered with marble slabs from the different regions of the empire, to underline its public and reception use.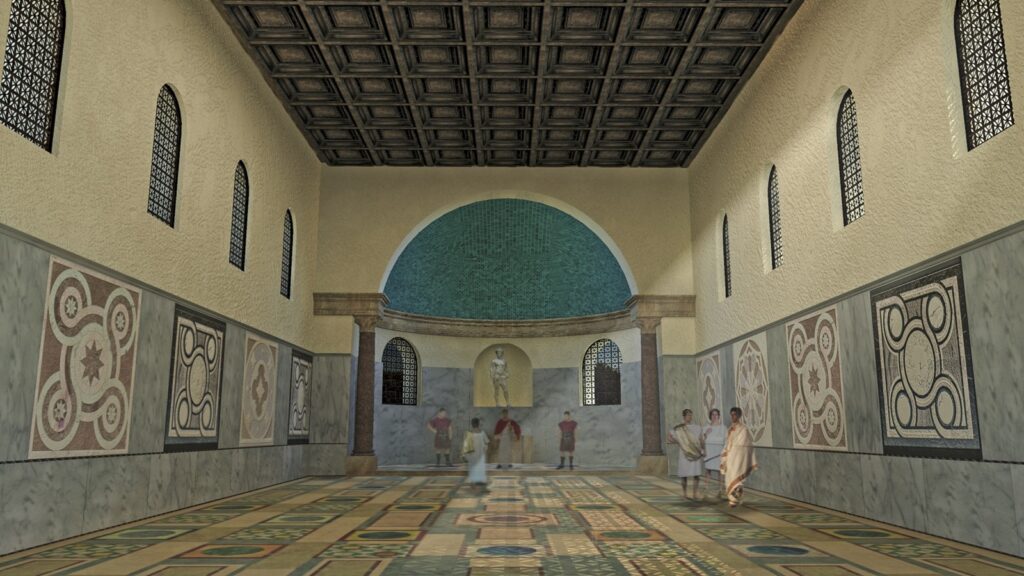 Observing the different types of marble that still decorate the basilica of the Villa del Casale, though with many gaps, transports us to the various regions of the Mediterranean: yellow Numidian marble; cipollino marble from the Island of Euboea; green Thessalian marble; Egyptian alabaster; African alabaster; cipollino rosso marble, and pavonazzetto marble from Asia Minor, not to mention the two valuable types of porphyry, red and green, from Egypt and Sparta.
In the Augustan age, Roman art used a few marbles of a single variety to decorate the floors, structured in geometric alternations and distributed in large homogeneous slabs to highlight the design.
Subsequently, the precision that accompanied the composition was prevailed by the interest in a combination that was even disorderly, through the simultaneous use of marbles of different origins.
This choice was dictated by a motivation that was not only aesthetic but also economic, since assembling the marble in no order also allowed slabs that previously adorned other buildings to be reused. Although architects favoured geometrical forms derived from the metric-proportional ratios of the human body, workers combined design with the space available.