Syracusan Jews settled mainly in Ortygia, in the urban fabric that aggregated from the Middle Ages onwards and which still reflected the ancient Greek structure.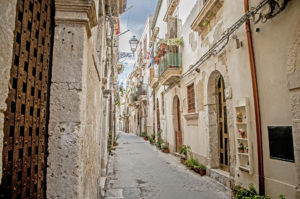 The Jewish quarter was formed of Vicolo I alla Giudecca, Via del Crocefisso, and the district "di li muragli", where there were small houses with gardens and vineyards.
Many Jewish houses were built in the district "del pozzo che sbruffa" (lit: of the well that spurts), whose name probably referred to a well connected to the sea which water poured out from.
The district was dotted with buildings that had a lower floor dedicated to trade, to which were annexed courtyards with wells and gardens, and an upper floor used as a dwelling. The centre of the trading activities were the "platee", a term indicating both squares and trade streets with workshops. Among the best known, there was the district of the Ferraria, its name given from the Italian word "ferraio" meaning blacksmith, due to the concentration of blacksmiths' shops
, while in the area between Via Nizza and the San Giacomo belvedere there were the trappeti, more commonly known as olive oil mills.
Also known was the Cannamela quarter, the name of which keeps the memory alive of the workshops where the " Cannamela
" (sugar cane) was refined.
In the area of Via Vittorio Veneto there was a fish market and various community ovens
for cooking mazot
, the unleavened bread of Passover.
The very lively and well-stocked markets were also an attraction for the Syracusans themselves, while the city quarter macellorum iudeorum, for the Jew's ritual slaughter
 of meat, was also located nearby.